Total global corporate funding in the solar sector decreased, but solar project acquisitions jumped to $2.9 billion in the second quarter, according a new report from Mercom Capital Group LLC, a global clean energy communications and consulting firm.
Corporate funding
Corporate funding decreased to $5.9 billion, compared to $6.4 billion in Q1 2015. This number includes venture capital/private equity (VC), debt financing and public market financing raised by public companies.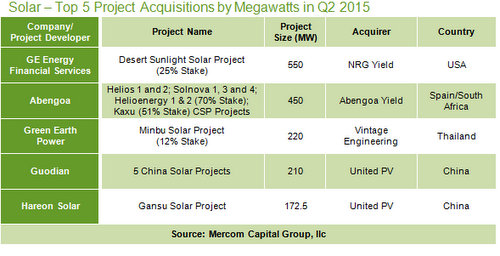 "Overall corporate funding was down slightly this quarter. Yieldcos had a significant impact on the financial activity in the sector and raised $1.6 billion in public markets, about $800 million in debt, and accounted for almost a third of all large-scale project acquisitions," said Raj Prabhu, CEO of Mercom Capital Group. "Residential and commercial solar funds continue to attract record funding as the ITC expiration deadline approaches."
VC funding
VC funding dipped to $142 million in 24 deals, compared to $195 million in 27 deals in Q1 2015. Solar downstream companies continued to attract most of the VC funding with $60 million in 13 deals.
Among the Top 5 VC deals in Q2 2015, the largest was the $40 million raised by Applied Solar Technologies, an off-grid solar energy service provider based in India, from Future Fund, Bessemer Venture Partners, Capricorn Investment Group and International Finance Corp.
Solexel, a manufacturer of crystalline-silicon solar cells and modules, raised $29.5 million.
Solantro Semiconductor, a developer of chipsets and reference designs for module integrated electronics within distributed solar PV solutions, raised $11 million from Black Coral Capital, Business Development Bank of Canada, Presidio Ventures, Clean Energy Venture Group, Export Development Canada and Inerjys Ventures.
Flisom, a Swiss developer of manufacturing technologies for the production of flexible solar modules based on CIGS thin-film technology, raised $10.7 million from the Tata Group. Persimmon Technologies, a technology company that develops, manufactures and distributes robotics and automation systems used in semiconductor, solar, LED and flat-panel display equipment, raised $8.9 million.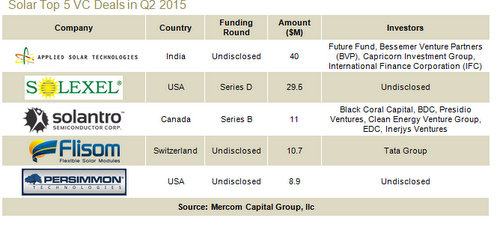 A total of 28 VCs invested in Q2 2015, with Clean Energy Venture Group participating in two deals.
— Solar Builder magazine
[source: http://solarbuildermag.com/news/solar-project-acquisitions-rise-to-2-9-billion-mercom-reports/]