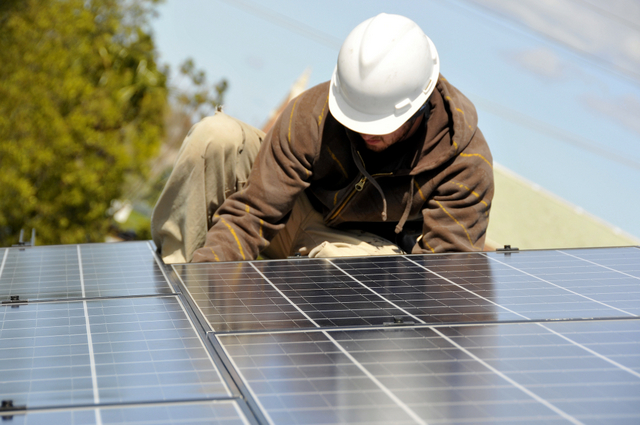 A combination of six business associations and social institutions have been named as recipients of funding for the development and administration of future energy jobs training as a part of the Future Energy Jobs Act (FEJA) in Illinois. Chicago Urban League, Austin People's Action Center, ASPIRA, HACIA, Chatham Business Association and the National Latino Education Institute (NLEI) will develop training programs related to solar and energy efficiency as a part of the FEJA's goal to prepare a workforce ready for the future energy industry.
ComEd, the Clean Jobs Coalition, and the grantee groups came together at Austin People's Action Center today to mark ComEd's filing of the FEJA Jobs Training plan with the Illinois Commerce Commission. Passed by the Illinois Legislature in 2016, and effective June 1, 2016, FEJA allocates $10 million every four years in 2017, 2021, and 2025—a total of $30 million– for solar pipeline training programs, craft apprenticeships and multicultural training for individuals from diverse and/or underserved backgrounds.
"Today's filing with the ICC marks a critical milestone in bringing this Jobs Training program to life," said Anne Pramaggiore, ComEd President and CEO. "This training program is one of several of the Future Energy Jobs Act's elements that help set a course for Illinois' energy future — the gateway to clean energy and $4B in anticipated energy efficiency savings already have been set in motion and now we launch training for new economy jobs."
Stakeholders and training organizations were engaged to help develop a collaborative plan. ComEd will continue working with these partners to design programs that will involve a breadth of organizations from various communities, and which ensure accountability and shared expectations.
Details on the jobs program:
Chicago Urban League: $1,000,000 to a community-based civil rights and human services not-for-profit organization that provides economic development, human capital, and education program services.
National Latino Education Institute (NLEI): $500,000 to a not-for-profit organization that is also an education institution that offers training programs approved by the Illinois State Board of Education and United States Department of Education with the goal of providing workforce initiatives leading to economic independence.
ASPIRA: $500,000 to a not-for-profit organization dedicated to developing the educational and leadership capacity of minority youth through the operation of schools, youth leadership clubs and youth development centers.
HACIA: $1,000,000 to a not-for-profit organization dedicated to providing equal access to opportunities in the construction industry that offer training programs that include Occupational Safety and Health Administration 10 and 30 certifications, Environmental Protection Agency Renovation, Repair and Painting Certification and Leadership in Energy and Environmental Design Accredited Green Associate Exam preparation courses.
Chatham Business Association: $500,000 to a non-profit organization that has a proven record of successfully implementing utility industry training programs, with expertise in creating programs that strengthen the economics of communities including technical training workshops and economic development through community and financial partners
APAC: $500,000 to a nonprofit organization that provides family services, housing education, job and career education opportunities that has successfully partnered with the utility on electric industry job training.
— Solar Builder magazine
[source: http://solarbuildermag.com/news/30-million-coming-online-to-fund-renewable-energy-job-training-in-illinois/]