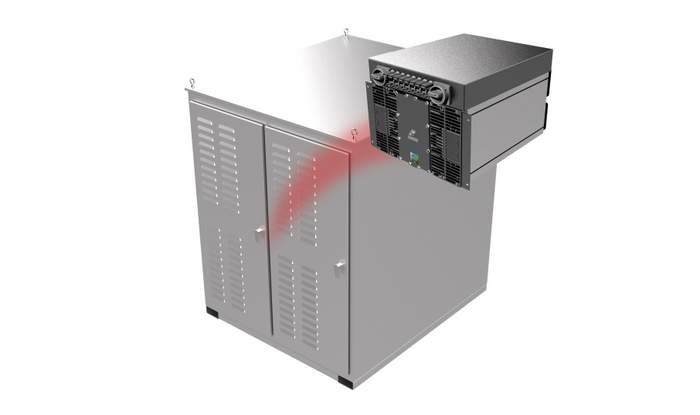 The DC:DC power conversion innovators at Alencon Systems LLC have unveiled their latest creations this week: the BOSS BOX and the SPOT BOX. These are scalable, centralized units of DC:DC power conversion built on Alencon's galvanically isolated, bi-directional and uni-directional platforms (got all that?).
Inside 'the BOX'
The BOX platform (Battery Optimized Container) targets projects requiring large amounts of DC:DC power conversion including large scale DC-coupled Solar + Storage, PV Repowering, EV charging, Battery Balancing and Energy Storage Augmentation among others.
"Using Alencon's patented galvanically isolated building blocks, the BOX platform is able to map wide differences in DC voltage on either side of the device," says Alencon Systems President Hanan Fishman. "The ability to map wide differences in voltage is absolutely critical to support a variety of DC based power applications from coupling solar and storage, repowering older PV systems, charging electric vehicles of all kinds and augmenting existing energy storage deployments with new and different battery chemistries."
Alencon's DC:DC platform's galvanic isolation also allows project owners to place numerous BOSS and SPOT modules in parallel safely because each module has very little capacitance on its output. This means the fault current contribution of a bunch of BOSS or SPOT modules placed in parallel can be measured in microfarads. This is unique and leads to a low contribution of fault current to a DC system, which can be a challenging in non-isolated DC:DC converters.
The BOX is outdoor rated and requires no externally provided auxiliary power sources. The BOX is cooled with forced air and leverages the outdoor rating of each of its component SPOT or BOSS modules. Since the BOX is made up of individual DC:DC converters, it has no field service parts. Individual BOSS or SPOT can easily be swapped out.
Both the BOSS BOX and SPOT BOX come pre-wired with appropriately sized copper busses to assure quick field installation. All individual BOSS or SPOT modules are installed on standard 19-inch racks with sliding trays and optional input/output fused disconnects for quick installation and field service. The BOX form factors also offer a highly flexible level of control through the unique features of the ACE – the Alencon Communications Environment, including easy integration into third party energy management (EMS), supervisory control and data acquisition (SCADA) and other control systems via an intuitive, standardized Modbus TCP-IP interface.
Get to Know OMCO Solar
OMCO Solar is a manufacturer of solar racking and tracker systems. OMCO offers two fixed-tilt systems, Field-Fast

and Choice

, as well as its OMCO ORIGIN

Single-Axis Tracker. Learn more at omcosolar.com
BOSS BOX details
The BOSS BOX is a bi-directional DC:DC conversion platform made up of a configurable number of Alencon's 80 KW Bi-directional Optimizer for Storage Systems (BOSS) modules. Each BOSS BOX can be configured to scale power conversion from about 250 KW to 2.5 MW depending on project requirements.
The BOSS BOX allows varying levels of control from entire cabinets to individual DC:DC converters. This level of granular control can be particularly helpful in controlling batteries to the rack level while integrating them with large solar projects using the DC-coupled technique.
SPOT BOX details
The SPOT BOX is a uni-directional DC:DC conversion platform made up of configurable number of Alencon's 80 KW string power optimizer and transmitter (SPOT) modules. The SPOT BOX is a particularly cost effective solution for boosting voltage from aged 600 volt PV arrays to new 1000 or 1500 volt transformerless inverters. Other applications can also include the uni-directional charging of electrical vehicles from a centralized DC-bus or battery.
— Solar Builder magazine
[source: https://solarbuildermag.com/inverters/bos/alencon-systems-debuts-simplified-dc-to-dc-power-conversion-units-with-new-box-platform/]