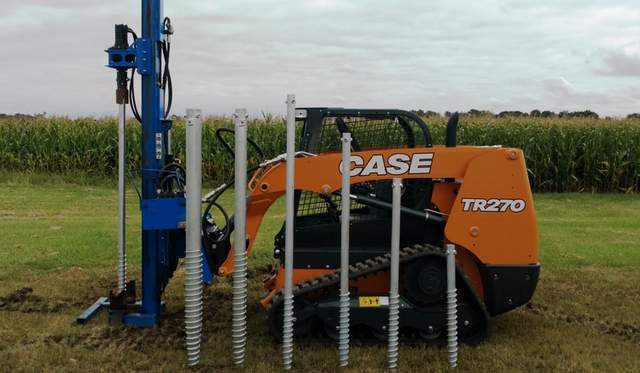 APA Solar Racking is launching a new line of ground screws and secured an exclusive U.S. distribution agreement with one of the world's leading ground screw manufacturers to fulfill solar projects of all sizes. The APA Ground Screws are available with APA racking or can be fitted with other ground mount and tracker systems. The ground screws are designed to APA's in-house engineering specs and backed by APA's quality guarantee. Customers will work directly with APA for all orders, and APA will manage the entire process for in-house application testing, loading engineering, volume ordering and inventory.
You can check them out in person at Solar Power International, booth 804.
Ground screw sizes
Ground screws are the ideal foundation for rocky, hard pan, and caliche soils. The APA Ground Screws are available with standard depths of 40, 61, 73 and 85 inches to accommodate frost depths around the country. APA's standard screw diameter is 2.35″ for better drivability, lower cost point compared to a 3"screw. Additional diameters up to 4.5″ are available. APA's ground screws are designed with the highest quality standards and backed by APA's guarantee. The Superior quality features heavy wall tube, welded connections, hot dipped galvanized coating, and a forged tip. These features allow massive amounts of torque and down pressure to be applied, penetrating the toughest soils.
The APA Ground Screw perfect for all APA racking systems and can easily be outfitted for other racking systems using either the set screw or flange connection. The ground screws are easy to install with a skid loader or mini excavator with an auger attachment or a pile driving rig with a rotary head.
— Solar Builder magazine
[source: https://solarbuildermag.com/mounting-solutions-guide/apa-solar-racking-launches-new-ground-screw-line-at-spi/]