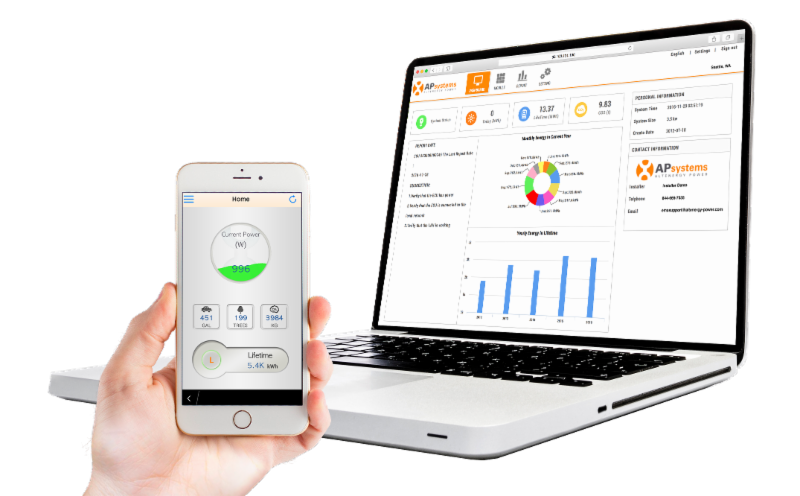 APsystems has released new system monitoring alert capabilities within its online EMA portal. The new alerts will improve communication regarding any production and communication issues with an enhanced email alert protocol, giving installers and homeowners further insight into any potential issues affecting their systems.
While the APsystems EMA has always provided system production reports and alerts, the new alerts will be more targeted, more frequent and more informative. Enhancements include:
1. System alerts will notify an installer if one of their installed systems has an inverter that ceases producing energy.
2. Registration alerts are issued in the case of inaccurate or incomplete system registration.
3. Communication interrupt alerts will notify installers in cases where their ECU gateway ceases communicating properly with the EMA online monitoring system which could indicate an interruption of communication between inverters, ECU and/or EMA; or simply a local internet, ISP or router issue.
4. Production alerts will notify installers of unusually low power production at the individual inverter level, giving them an opportunity to check status online and verify proper operation.
APsystems microinverters now on Sunnova's approved vendor list
These alerts offer installers a more refined tool for notification and troubleshooting of potential system issues. As with any apparent issue, APsystems always recommends contacting our technical support team if you suspect a problem. Most issues can be reviewed and resolved online and without a trunk roll.
Changes made to the EMA are seamless and will be automatically available to all new registered systems and over 31,000 existing APsystems installations worldwide.
— Solar Builder magazine
[source: https://solarbuildermag.com/news/apsystems-improves-its-ema-portal-here-are-four-new-features/]