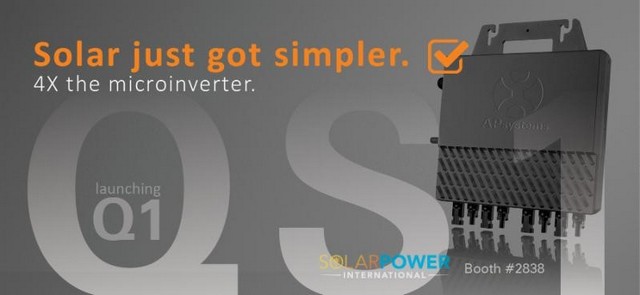 APsystems will unveil the QS1, a four-module, single-phase microinverter for residential applications at the Solar Power International trade show in Anaheim. A new design for APsystems, the company says the QS1 offers 75 percent faster installation time, while offering the highest peak output power and up to 3x faster transmission speed than conventional microinverters. A wider MPPT voltage range will result in a greater energy harvest for homeowners.
The first of its kind, the QS1 is designed to accommodate today's high output PV panels, offer enhanced capability and significantly reduce installation time and costs while providing an unprecedented level of power with four independent MPPT per channel. Common AC trunk cabling with the dual-module YC600, offers flexible mix-and-match compatibility on the same circuit and with the same gateway (ECU-R or ECU-C).
The unit also builds on the successful APsystems line of multi-module microinverters, offering reduced logistics costs and integrated communication and connection features.
For more info on the newest inverters on the market download our free 2018 Inverter Buyer's Guide
— Solar Builder magazine
[source: https://solarbuildermag.com/news/apsystems-to-debut-four-module-microinverter-at-solar-power-international/]