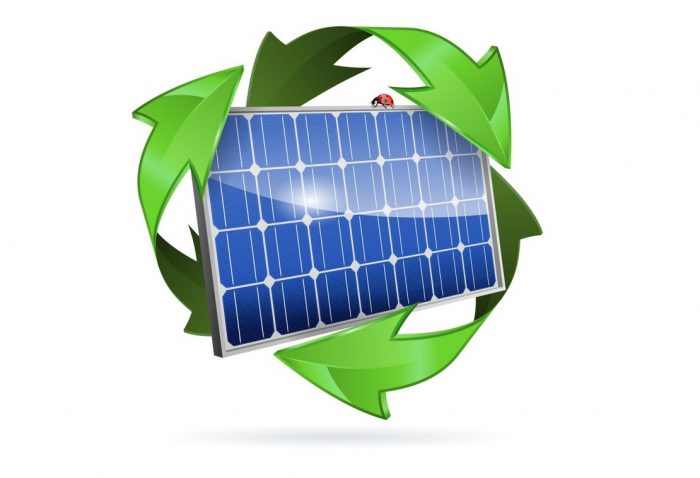 With the projected growth of solar installations being constructed around the country, protecting the waste stream and reusing valuable components is an industry imperative. Green Earth Recycle located in Southern Nevada is a new minority-owned, DBE-certified, recycling company supporting the renewable energy sector.
Green Earth Recycle seeks to be the first closed-loop recycler of solar modules and recently contracted with McCarthy Building Companies and EDF Renewables to remove and recycle damaged solar modules from the Arrow Canyon Solar Project in Apex, Nevada.
"We are very excited about this award and the opportunity to divert these solar modules from the overall waste stream and our local landfills. Ahead of legislation requiring recycling of solar modules, it is very positive that companies like McCarthy Building Companies and EDF Renewables are committed to the environment and not allowing this waste just to be shipped to the landfill in dumpsters," says Tim Brown, president of Green Earth Recycle.
Many solar projects across the U.S. end up with damaged panels upon installation from trucking and handling. It is Green Earth Recycle's goal to recycle, repurpose, and/or re-invent these modules to a form that not only saves waste but reuses the valuable materials within these panels, like aluminum, glass, and silicon.
"As we work to support the goals of businesses, communities, and utilities to establish a sustainable clean energy infrastructure, McCarthy is continually looking for innovative ways to further this objective," said Chris Fletcher, project director for McCarthy Building Companies Renewable Energy and Storage Group. "Through partnerships like this, with Green Earth Recycle and EDF Renewables, we are able to push forward even further with environmentally conscious solutions that reduce waste while maintaining the high-performance goals of the solar facilities we are building around the nation."
— Solar Builder magazine
[source: https://solarbuildermag.com/news/arrow-canyon-solar-panel-recycling-contract-goes-to-green-earth-recycle/]