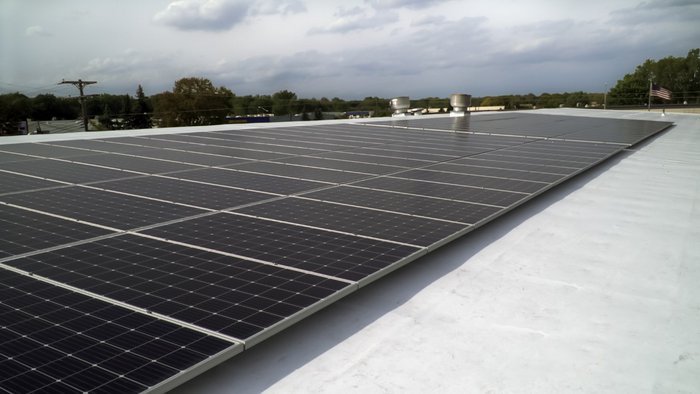 BENLEE, a leading roll-off trailer and lugger truck manufacturer in North America, has established new sustainability goals for 2020 and beyond. As part of those goals, the company had POWERHOME (another company that loves all-caps) install 404 roof-mounted solar panels on its corporate headquarters in Romulus, Mich. The addition of POWERHOME's rooftop system will help BENLEE produce approximately 190,000 kWh of solar energy annually and will reduce the company's grid energy consumption by nearly 80 percent annually.
"BENLEE has been in business almost 50 years and plans to be here in another 50," said Greg Brown, BENLEE president. "Developing a sustainability plan to reduce our impact on the environment and being able to eventually eliminate the energy bill, an expensive fixed operations cost, makes great business sense on top of reducing fossil fuel use. Climate change is real, storms are getting worse, heat waves are getting worse and farmers are being hurt. We want to do our part."
Energy bills comprise a significant portion of a business's operating costs. Companies who install solar panels reduce those expenses, improve their bottom lines, and can focus more resources on core business strategies and even increase the value of their companies. As the price of solar energy systems continues to drop, those systems offer predictably priced electricity, making solar a strong value proposition for companies nationwide.
Check out all of the 2019 Project of the Year winners here right here.
"Businesses also can benefit from the 100 percent bonus depreciation that's now available on solar expenditures, meaning that those businesses can deduct the entire expense of solar in the first year, making solar an even better value," said Jayson Waller, CEO of POWERHOME. "Combined with the new 21 percent corporate tax rate that went into effect more than a year ago, conditions are ideal for businesses like BENLEE to make the leap to renewable solar energy."
POWERHOME sees significant opportunity to help businesses in Michigan and its other markets. The company already is the largest residential solar provider in Michigan, and is an official partner of the Detroit Lions, having installed solar panels on the parking garage at Ford Field and at the team's practice facility in Allen Park.
— Solar Builder magazine
[source: https://solarbuildermag.com/news/benlee-adds-rooftop-solar-system-to-michigan-headquarters-via-powerhome-solar/]