Bifacial modules are like the sports cars of solar modules; they boast industry-leading efficiency breakthroughs while upholding unsurpassed aesthetic standards. Frameless bifacial modules showcase some of the highest power efficiency outputs in the solar industry because they absorb light from both sides to increase energy yield.
Residential Applications
For residential solar projects, frameless modules are popular when space is limited. For example, many residential customers supplement their backyard pergola with bifacial modules to provide energy to their homes. This provides energy production from a watertight awning that provides partial shade to cool the space underneath in the summer. Tempered double glass and rugged frameless modules require no additional grounding which further reduces the cost of installation and hides backsheets and grounding hardware.
Commercial Applications
While bifacial frameless module aesthetics play a role in commercial solar, the driving force behind their design selection is set apart by their 10-20 percent energy boost. For example, a reflective white Thermoplastic polyolefin roofing membrane (TPO) reflects light to the backside of the module to generate up to 20 percent more electricity as a framed module. Furthermore, when paired with DC Tigo or Solaredge optimizers, these modules maximize usable surface area with custom length strings and shade mitigation.
Racking
One of the most common questions from solar integrators who are new to frameless modules is how to rack them. Luckily, there are options. One example is racking manufacturer IronRidge's collaboration with Sunpreme, one of the leading manufacturers of frameless bifacial modules, to produce the Ironridge Frameless Clamps. These clamps can rack modules in perpendicular and parallel orientation. The rubber fitting located on the inside of the clamps protects the double glass framed module.
For solar designers prioritizing clean aesthetics and top power density, frameless bifacial modules offer a combination of form and function.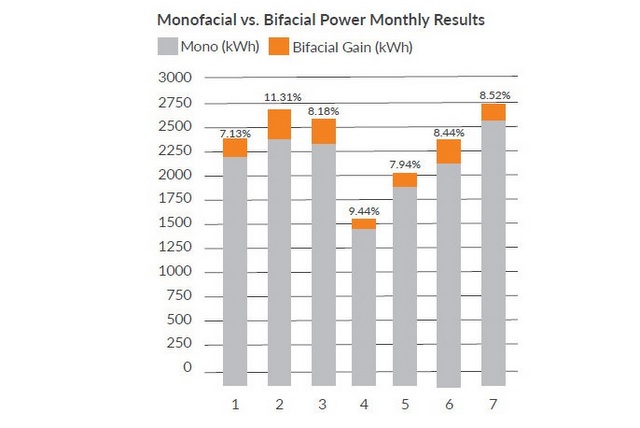 Since August 2015, Mission Solar has been operating an R&D test-bed at its San Antonio headquarters. Testing conditions are designed to mimic traditional utility-scale installation with dual-axis trackers and no modification to ground conditions. One year of results have shown a bifacial output increase of 7-17 percent over monofacial installed with identical conditions. MSE is currently also gathering data using single-axis and fixed-tilt trackers, as well as experimenting with various ground materials. Research has shown that with optimized conditions bifacial increase can be up to 30 percent or greater.
Charlie Saginaw is an account manager for Civic Solar.
— Solar Builder magazine
[source: https://solarbuildermag.com/pv-modules/bifacial-breakdown-know-when-and-how-to-use-these-dual-sided-pv-panels/]