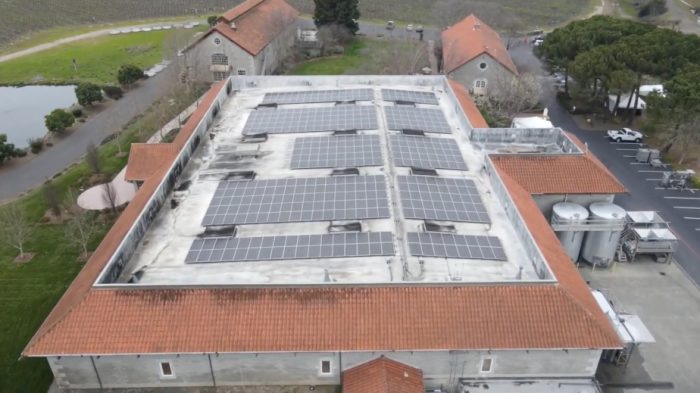 A Napa, California-based wine producer is setting new heights with its on-site solar electricity generation expansion. Treasury Americas, a division of Treasury Wine Estates Ltd. (TWE), has made a substantial investment to install approximately 13,000 solar panels across all its properties.
When complete, the company's total on-site solar generation will be approximately 14.3 million kWh annually. The project is pivotal in the company fulfilling its goals to transition to 100% renewable electricity by 2024 and net-zero carbon emissions by 2030.
According to independent research conducted by DNV, Treasury Americas is estimated to be the leader of on-site solar electricity generation in the U.S. wine industry following the completion of the project. More than 60% of company's electricity will be generated by on-site solar, setting a record for a U.S. wine company of its size and scale.
Expanding on a Pioneering Role in Renewable Electricity
Treasury Americas' longstanding commitment to renewable electricity began in 2008 with solar installations at Beringer Vineyards. As part of this new investment, solar panels will be installed across iconic properties including Beaulieu Vineyard, Beringer Vineyards, Etude Winery and Frank Family Vineyards in Napa Valley, as well as TWE's properties in Paso Robles and the Central Coast. Sterling Vineyards — closed since 2020 due to damage from the devastating Glass Fire — is expected to reopen this fall and will be fully powered by solar electricity.
"We have a responsibility to be stewards of the environment and to mitigate the impact of the climate crisis on our wines and communities. The rapid transition to 100% renewable electricity will eliminate the majority of our production emissions in only a few short years," said Will Drayton, director of sustainability and science for Treasury Americas. "Furthermore, additionality is key. By maximizing our on-site solar generation, we are greening the California grid and opening the door to future developments such as on-site storage."
Going Beyond Solar
Treasury Americas has contracted Shell Energy Solutions to complete the project. To further support TWE's global net-zero commitments, Shell Energy will provide additional solutions including management of the on-site solar generation as well as additional efficiency activities such as the retrofit of LED lighting and compressed air improvements.
"Collaboration is key to achieving decarbonization," said Glenn Wright, VP of renewables and energy solutions Americas for Shell Energy. "The work we're doing with Treasury Americas is a perfect example of working together to figure out the right mix of solutions, which leads to achieving carbon footprint objectives. I'm proud of the strong relationship that the Shell Energy and TWE teams have established, and I am looking forward to continuing that into the future."
— Solar Builder magazine
[source: https://solarbuildermag.com/projects/ca-wine-producer-makes-record-setting-investment-in-on-site-solar-installation/]