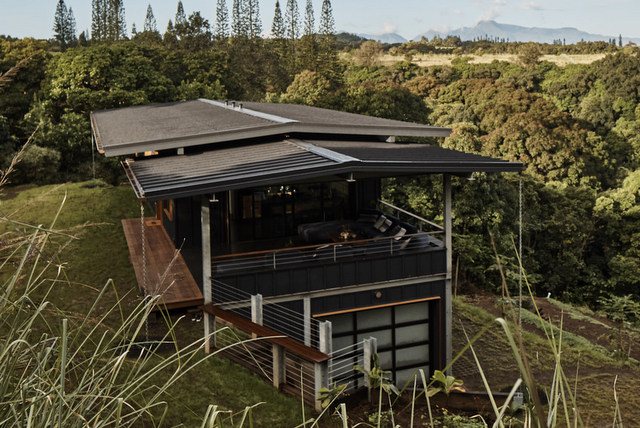 Graham Hill, founder of the sustainability-focused media outlet TreeHugger and two-time TED presenter, launched a new compact, off-grid, low-impact showcase house in Maui on a shared lot. The project – LifeEdited Maui – aims to spread the concept of living big in a small house. He's providing a glimpse of what life can look like in a sharing community with a multi-functional, beautiful and sustainable house.
The idea, Hill says, is that through smart design, technology and maybe a little behavior change, we can all create "smaller" and most importantly happier lives, all while saving money and reducing our environmental footprint.
The Maui project also provides an opportunity for clean lifestyle brands to show off their most innovative products. The star of the show is Sunflare solar, which provided 9kW of its lightweight, thin solar power for the standing seam metal roof on the 1,000 square foot home.
Sunflare's panels were chosen because of their eco-friendly, energy-efficient manufacturing process and thin, flexible lightweight design. Sunflare manufacturing uses a scant 20% of the energy that silicon panels use from birth through transport to an installation site. The manufacturing process uses very little water, and that which is used is clean and can be reused. The spent materials are recycled. And the Sunflare panels don't use glass, don't need aluminum racking, and are just one quarter of the weight of a silicon panel all by themselves.
"We're excited to work with Sunflare – it's just a beautiful fit," said Hill. "Sunflare has the cleanest environmental footprint of any of the solar panels out there. As a global citizen that's the most important. And it's thin, so it nestles right into the standing seam roof, so from an aesthetic point of view it's great. Totally invisible. Installation is super easy too. It's held secure with roofing adhesive. Genius."
LifeEdited worked with the home's metal roof manufacturer to pick a color that is very close, if not identical, to the color of the Sunflare panels so that the panels can "disappear" into the roof.
The panels work well in low light. The day the Sunflare team was there, the house had just hosted 4 days of a full house with hot showers and all. The battery was down to 12%, and Graham look a little worried, as the day was rainy. But by the time we finished taping a conversation with him, the battery had reached 25%.
The prototype home produces more energy and water than it consumes and incorporates innovative technologies and life-sustaining architectural designs. In addition to the solar power, he has included composting toilets and water catchment.
— Solar Builder magazine
[source: https://solarbuildermag.com/news/check-out-how-these-sunflare-solar-panels-blend-into-this-standing-seam-roof/]