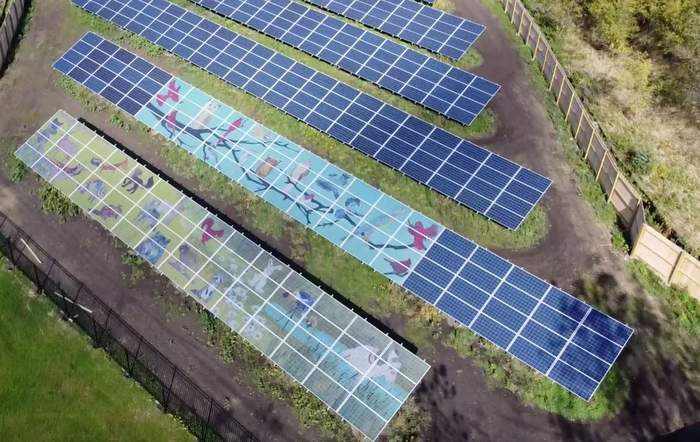 Take a look at this cool, 1-MW solar array that was also a unique hands on STEAM learning experience for elementary school children at KCSD96 in Illinois.
The Challenge: Performance Services, a solar developer serving the K-12 and higher education markets, was faced with a unique and forward-thinking requirement from the local village board where Kildeer Countryside CCSD 96 is situated: the board requested that the proposed 1 MW array for the school district integrate art to become a shining example fusing form and function. Turning industrial solar panels into a canvas for beautiful art? There is only one technology to make that happen, so Brian Ondyak and team at Performance Services reached out to us and enquired about SolarSkin by Sistine Solar.
Deep cycle lead-acid batteries are the most-recycled consumer product in North America. Delivering proven performance, flooded models continue to be the most affordable energy storage solutions for residential off-grid & backup systems. Browse the Rolls catalog here.
The Solution: The design team at Sistine Solar, a company focused on solar aesthetics, worked with KCSD96's Superintendent Julie Schmidt to make this vision come true. KCSD96 decided to source the artwork directly from school children and ran a contest for students to create original drawings of local birds and animals. The winning designs as selected by KCSD96's art teachers were collated by the Sistine team into two art pieces to adorn the front two arrays of the installation.
The Outcome: The magic of SolarSkin brought alive the children's artwork on the solar installation, the first of its kind in the world. The Solar Foundation and Generation180 report that over 7,300 schools in the US have gone solar, but SolarSkin has laid a blueprint for a novel way to inspire the next wave of K-12 solar. With the help of SolarSkin, the children learnt about solar, became more familiar with local nature and wildlife, and got to exercise their artistic skills. Science, technology, art, and sustainability – this novel STEAM-based action learning experience pioneered by KCSD96 in partnership with Sistine Solar and Performance Services is a model that can be replicated in schools around the country.
— Solar Builder magazine
[source: https://solarbuildermag.com/pv-modules/check-out-this-school-solar-array-that-features-student-art-contest-winners/]