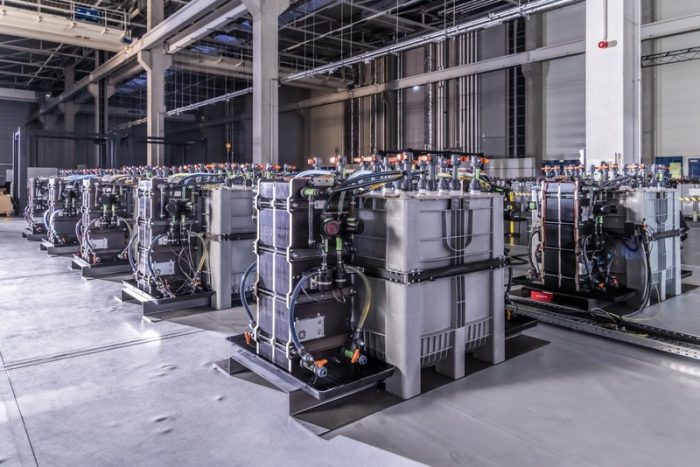 German battery designer and manufacturer CMBlu Energy is delivering a U.S.-based demonstration of its innovative long-duration organic solid-flow energy storage technology. The pilot project will be based at WEC Energy Group's Valley Power Plant in Milwaukee, Wis., in collaboration independent research institute EPRI. The The 1-2 MWh pilot will demonstrate how CMBlu Organic SolidFlow battery storage technology can be an ideal fit for U.S. power grids preparing for the clean energy transition.
WEC Energy Group will test Organic SolidFlow energy storage for discharge durations of five to ten hours, an area of emerging need for electric power systems undergoing decarbonization.
"We're pleased to be showcasing our long-duration storage technology for domestic utilities and large energy users, and we are thrilled to collaborate with WEC Energy Group and EPRI," said Ben Kaun, President of CMBlu Energy Inc. "The Valley Power Plant in Milwaukee is an excellent site to demonstrate our sustainable Organic SolidFlow batteries, and this project marks an important first step in our plans to deploy our energy storage solution in the United States."
The pilot project is planned to begin testing in Milwaukee during the fourth quarter of 2023.
What is Organic SolidFlow? | CMBlu's proprietary technology differs from conventional lithium-ion chemistry in that it's made from abundant, low-cost, safe, and recyclable materials, protecting it from the price and supply chain bottlenecks currently impacting the industry. The company's Organic SolidFlow batteries are flexibly scalable between power and capacity and can be engineered to meet the specific requirements of different grid applications.
As the company explains to us via email, this is how the technology works:
In billions of years, nature has managed to develop a very efficient energy storage technology: organic carbon-based molecules. CMBlu uses exactly these principles of energy storage.

In the patented SolidFlow batteries, energy is stored in a solid made of plastic polymers, and the transport of energy to / from the solid is handled by an aqueous electrolyte. Organic compounds are used as the active material. The starting materials are carbons from sustainable as well as fossil sources.

The solid is a simple, inexpensive and available material. It is small black pellets with conductive additives, the structure of which can be optimized to better utilize the volume in the tank while keeping the hydraulic properties of the system unchanged.
"One of our most important goals is to help shape the future of clean energy by testing technologies that could be true game changers," said Gale Klappa, executive chairman, WEC Energy Group. "We're pleased to work with CMBlu and EPRI to test this technology. On-demand energy storage is clearly a key component of an energy transition that is affordable, reliable and clean."
"The results of the pilot will provide key insights that could inform the deployment of clean energy technologies across the industry," said Neva Espinoza, EPRI vice president — energy supply and low-carbon resources. "We look forward to collaborating with WEC Energy Group and CMBlu Energy to advance solutions with the potential to strengthen resilience on the path to a low-carbon future."
— Solar Builder magazine
[source: https://solarbuildermag.com/news/cmblu-demos-organic-solid-flow-battery-at-wec-energy-group-power-plant/]