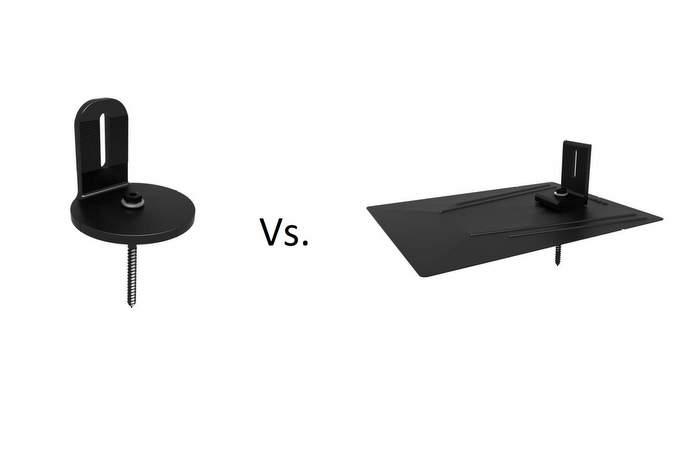 SunModo (this month's sponsor) has the most comprehensive collection of solar mounting and racking solutions, from residential rooftops to large-scale ground-mounts to carports and everything in between. Choosing among them can be daunting. For example, on residential shingle roofs, there is the EZ Roof Mount, which is a best seller, that is now being paired with the new SoloFlash. But then there is the innovative new NanoMount. Why choose one over the other? Could depend on the application or your personal preferences. Let's compare and contrast.
NanoMount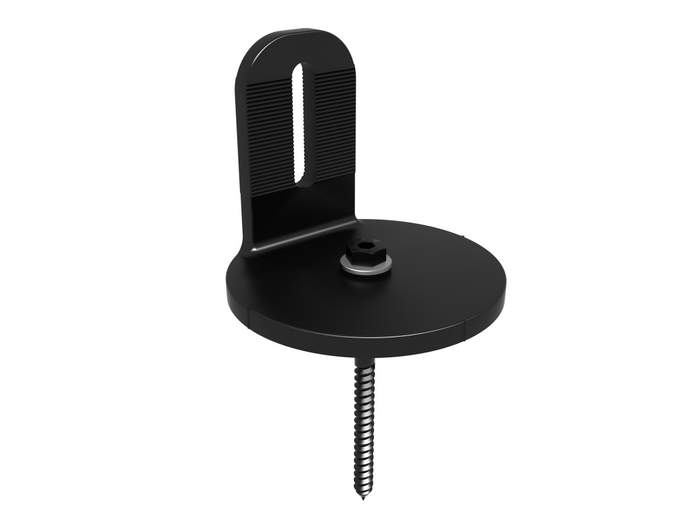 The NanoMount has an Integrated Silicone Ultra Soft Weather Sealing gasket on the bottom that conforms to the roof. There are no pre-punched holes in the gasket (more on this in a minute). The Lag creates a rotational seal with the gasket, with a sealing washer preventing water penetration from above. SunModo recommends putting a bead of sealant on the bottom of the mount as an extra precaution – but the high performance gasket means NanoMount is not reliant solely upon user-applied sealant for protection. Both rafter and deck attachments are available so NanoMount has the flexibility to cover a wide range of scenarios and preferences.
The giant silicone gasket covers the entire bottom of the mount and is recessed to ensure proper compression. The Ultra Soft material conforms to uneven roof surfaces. Again, there are no pre-punched holes, so the gasket seals around lag/screw.
NanoMount Benefits
• The fastest attachment solution on the market
• No need to pry shingles to slide flashing under the upper course of shingles
• The only comp roof attachment on the market that has only 2 components – NanoMount & Lag with sealing washer (Rafter version)
• High-Velocity Hurricane Zone Approved, passing the TAS 100 (a) Wind-Driven Rain Test.
Preventing damage to shingles is a big key, and NanoMount does not require disturbing any shingles. With NanoMount, there is no need to pop nails and damage shingles to slide flashing. This means no breaking of brittle shingles during cold weather installs or tearing of soft shingles on hot days.
A point of emphasis for SunModo is that all materials are compatible with composite shingles. The gasket material is Silicone. SunModo's research indicated that EPDM gaskets cause a chemical reaction with comp shingles that will eat into the roof over time.
EZ Roof Mount w/ SoloFlash
SunModo's best-selling EZ Roof Mount is an industry standard for PV system mounting on any composite shingle roof but is now being paired with the recently introduced SoloFlash. The mount consists of only three components and is installed onto the roof in just three easy steps. The SoloFlash is a more conventional flashing, if that's what you're used to, but it has some smart tweaks.
SoloFlash is an economical flashing that prevents water penetration with 6 levels of protection and only requires one tool for assembly. The L foot has A 360-degree positioning and serrated surfaces on both sides for rail mounting. The flashing design is cone shaped to divert water from the roof penetration. A stamped emboss feature stiffens the flashing to minimize the bending. Alignment markers are also a handy feature.
Both products are High-Velocity Hurricane Zone Approved, passing the TAS 100 (a) Wind-Driven Rain Test.
Solar's Fastest Attachment
Damaging roof shingles used to be one of solar installers' worst challenges. Now, the easy, affordable solution is NanoMount

, SunModo's newest solar mounting innovation. Learn more here.
Bottom line
Choose NanoMount … If you want the fastest install that prevents damage to shingles while giving the flexibiltiy of both rafter and deck install.
Choose SoloFlash… If your jurisdiction requires use of a roof mount that has a metal flashing and you want the lowest cost option on the market.
Choose EZ Roof Mount… If you want the most versatile attachment that can do anything you want – rafter, decking, stand-offs, etc.
— Solar Builder magazine
[source: https://solarbuildermag.com/news/comparison-sunmodos-new-nanomount-vs-ez-roof-mount-and-soloflash/]