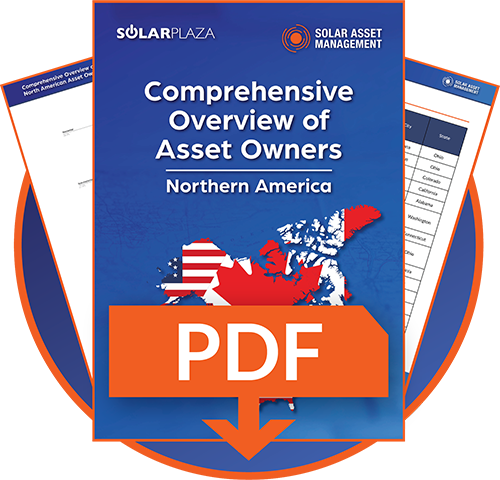 According to Solar Energy Industry Associations (SEIA), there is currently about 60 GW of solar capacity installed across the US, 11 GW of which became operational in 2018. The US solar market remains poised for further growth, despite weathering a few stormy quarters since the government announcing tariffs on imported modules and cells. 2018 also marks the year, where the first clean energy PPA by a major oil company was signed in 2018. This agreement included 250 MW of solar capacity intended to power ExxonMobil's operations in Texas.
The U.S. trajectory of solar asset ownership is ever changing. In the run-up to Solar Asset Management North America and to take better stock of the solar PV ownership landscape of the region, Solarplaza has compiled a comprehensive overview of the 100+ solar asset owners and their corresponding active markets as well their portfolio size across US and Canada. In this complimentary 55 page overview includes:
Recap of the US solar deployment in 2018 and the top 5 markets
Overview of 100+ solar asset owners active in the US and Canada
Visual mapping of all the players active in different states
To learn more about what comes next for solar in the US and how to optimize the management as well as the O&M of your solar assets, join the pre-eminent Solar Asset Management North America conference, taking place on March 26-27 in San Francisco.
— Solar Builder magazine
[source: https://solarbuildermag.com/news/comprehensive-overview-of-solar-asset-owners-northern-america/]