When I first saw the Esdec FlatFix at Solar Power International in Anaheim in 2018, I thought the Netherlands-based solar racking company had a chance to make a dent in the commercial rooftop segment in the United States based on its slick system design. Fast-forward a calendar year and I was more right about Esdec's ascendance in the states than I anticipated (a personal first), but for different reasons.
Esdec's systems are still slick, but the company's big move in the U.S. solar mounting space has come through a series of acquisitions. First came EcoFasten in November 2018, which had over 3 GW of U.S. systems under its belt at the time. Then this September, just before SPI, Esdec drew both Quick Mount PV and IronRidge under its canopy.
Esdec CEO Stijn Vos tells us the plan from here is to keep each brand label separate but to combine forces in terms of R&D and compliance testing while drawing on the wide IP portfolio of each company.
"We see certification rules are becoming stricter, and customers want more warranty, more guarantee for longer periods and this is necessary for the market," Vos says. "When we combine the R&D knowledge and work on the right things in several places in the world — not duplicating efforts across four labels now — the combination will help us all be more efficient and save time to market when we make new products."
As a preview of these newly realized synergies, take a look at EcoFasten's new rail-based "ClickFit" product. It is fully based on Esdec's successful ClickFit system in Europe. The design understanding and IP is a benefit for EcoFasten and its customers, and Esdec benefits from EcoFasten's expertise in the U.S. market. One thing that held this product back from the U.S. previously involved specific tweaks needed for U.S. testing compliance.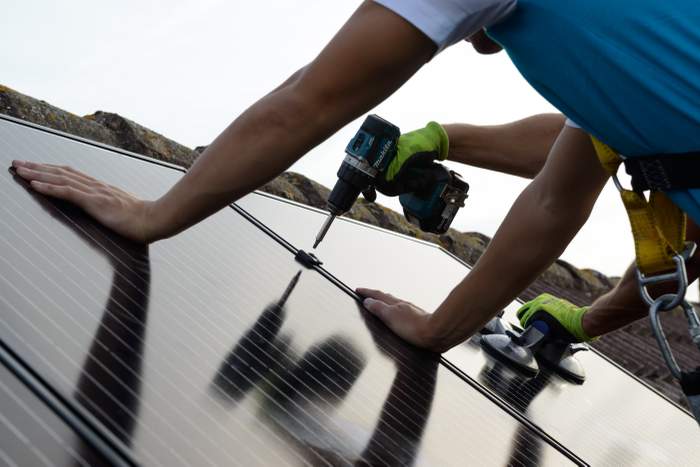 "When we designed this for European rules, it led to a lower price and stronger product that makes the installers' lives easier but also the lives of distributors easier," Vos says. "When we launched the ClickFit in Europe three years ago, we went from 24 SKUs to only four pieces."
EcoFasten has mainly focused on direct sales to integrators, but now with IronRidge and Quick Mount PV in the mix, Esdec will leverage these additional channels to explore how best to serve the market through distribution. That did make me curious about the company possibly competing its products against one another.
"We will never sell products for Quick Mount PV or IronRidge directly to customers of EcoFasten. We have a fantastic distribution channel network to sell through together," Vos says.
Another thing to consider is the amount of extruded aluminum used by these brands — 10s of millions of pounds combined. Its enough to vault Esdec into the top 35 users in that space. You can assume some economies of scale will be gained.
Final word on consolidation
As the solar industry grows and seeks further reductions in costs, this type of consolidation seems necessary. Vos agrees and welcomes similar moves to match their current approach.
"I think due to the fact that the general trend is prices going down, you have to consolidate," Vos says. "We've seen good growth and expect there to be more growth in the coming years. I think it makes sense to centralize at some points in terms of knowledge, and it will not surprise me when other companies in the market find each other and match their knowledge together to make new innovative products to gain economies of scale. It will also help our total market when the end-customer sees the prices are optimized, and this enables the market to grow much faster. It's a matter of price optimization and volume. So, I hope other manufacturers are looking for chances to consolidate too because it will help the market."
Will we see any more acquisitions from this company?
"I don't think further acquisition in the U.S. will be logical with the size of the market," Vos says. "Our area of focus is Europe and the U.S., and we are focused on racking and mounting systems and the market for them."
— Solar Builder magazine
[source: https://solarbuildermag.com/news/consolidated-power-esdec-tells-us-about-its-big-moves-in-the-u-s-solar-mounting-and-racking-space/]