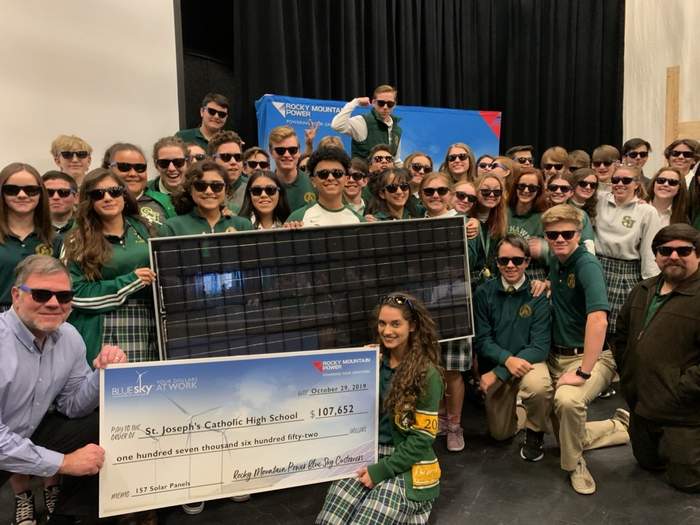 A portion of the energy used by an Ogden-area high school is now coming from the sun, after a student took the matter of renewable energy into her own hands.
St. Joseph's Catholic High School senior Olivia Arbogast first approached the principal last year about getting solar panels on the school. She was also heavily involved in researching options and writing the proposal to make the project possible. After working with Synergy Power, the school was awarded $107,652 grant from Rocky Mountain Power's Blue Sky program for the 157-panel installation. The school celebrated the project's completion this week.
"By installing solar panels, everyone who visits and attends our school will immediately notice one crucial quality about us – we care," said Arbogast. "There is always progress to be made, especially when reducing our carbon footprint, but we have made a start."
St. Joseph's will also be adding renewable energy education to its curriculum to teach students the role it will play for future generations.
"We live lives where one event snowballs to the next, and before we know it everything is changed," said Arbogast. "This snowball effect can take hold of our community. Our solar panels could give other homes, businesses and schools the inspiration to risk breaking away from tradition for the betterment of all."
Since 2006, Rocky Mountain Power's Blue Sky customers have voluntarily supported wind and solar energy generation in the region. Blue Sky has provided more than $11 million in funding to community-based renewable energy projects. More information about the Blue Sky program is available here.
— Solar Builder magazine
[source: https://solarbuildermag.com/projects/utah-high-schooler-works-to-get-her-school-a-100000-solar-system/]