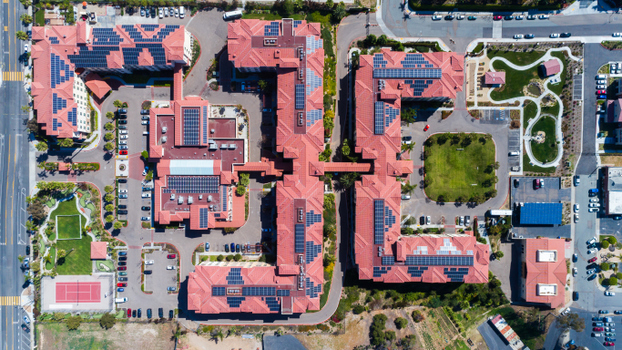 Generations LLC added an expansive 527.8 kW photovoltaic (PV) solar + storage system on its resort style independent, assisted living and memory care community, Paradise Village, in San Diego's South Bay. Combining solar with a behind the meter energy storage system, the energy enhancing project will produce approximately 1 million kWh of electricity per year, approximately 40 percent of the campus' annual electricity usage. In addition, an estimated cost savings of $250,000 in both regular and peak demand usage will be provided from the hybrid solar and low-cost battery storage system.
Financing details
Generations LLC and NW Photon Energy (NWPE), both of Portland, Ore., partnered on the pro-ject which has been in development for three years. According to Kirk Cameron, President of NW Photon Energy, this project became viable as a result of four key factors.
1. The foremost was a healthy ROI with a payback of less than 5 years.
2. Helping Paradise Village gain control of its energy expenses and eliminate rising utility in-creases was the second factor.
3. Paradise Village's qualification for a CPUC Self-Generation Incentive Program (SGIP) rebate covered approximately 5 percent of the total project cost and
4. The final factor was Generation's 10-year refinance of a previous $82 million construction loan through Fannie Mae's Green Rewards program – the first Green Rewards loan backed by a sen-ior housing property. This refinance provided exceptional terms and a reduced interest rate which contributed to the aggressive ROI.
RELATED: Solving C&I Solar: How boutique financing is growing this underserved solar segment
According to Chip Gabriel, President of Development for Generations LLC, the business case for solar was clear to them from both a financial and environmental sense.
"With a large percentage of a residential housing community's operating expenses originating from its energy usage, a sustainable approach to property management is crucial for the long term," says Gabriel. "Adding solar was not only a financial decision but also one framed by the environmental impact that taking care of more than 400 residents creates."
Generation's commitment to solar is a continued example of their foresight and approach to property management. They have identified solar as a means to leverage underutilized roof space to improve operating efficiencies for their buildings.
The next phase in Generations' energy management plan involves identifying additional solar project opportunities. The company recently contracted a third solar system to be installed by NW Photon Energy at its Linfield Village senior living community in Temecula, California.
Paradise Village System Overview
System General Contractor: NW Photon Energy
Solar System Installer: Horizon Solar Power (San Diego, CA)
Location: National City, CA
Layout: 394 units in seven four-story residential buildings
Array Capacity: 527.8 kW
Number of Panels: 1,466
Average Annual Production: 1,000,000 kWh
Tile Roof Mounting/Racking System: Quick Rack Rail-Free Mounting Systems
Flat Roof Mounting/Racking Systems: UniRac Ballast Flat Mount and Iron Ridge Attached
BTM Energy Storage System: Sharp Electronics Corporation's Energy Systems and Services Group's (Sharp ESSG's) SmartStorage System. Capacity: 240 kW/324 kWh
— Solar Builder magazine
[source: https://solarbuildermag.com/news/creative-financing-completes-530-kw-solar-storage-install-at-san-diego-retirement-community/]