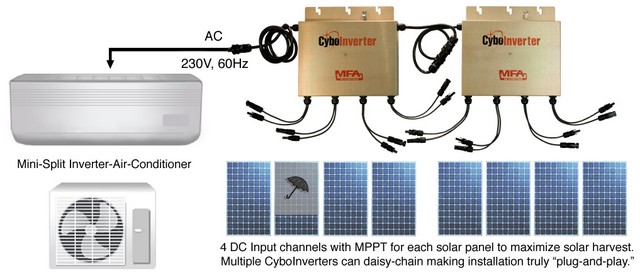 CyboEnergy was selected by Frost & Sullivan to receive the 2017 "Global Solar Inverter Technology Innovation Award". The award recognizes CyboEnergy's achievements and excellence in innovation, leadership, and growth. CyboEnergy will be presented this award at Frost & Sullivan's Awards Gala to be held in Disney's Grand Hotel in Anaheim, California, on Jan. 24, 2018.
To win the Technology Innovation Award, a company must demonstrate excellence in innovation, leadership and growth. This kind of excellence typically translates into superior performance in three key areas: demand generation, brand strength, and competitive differentiation. This three-fold focus must ideally be complemented by an equally rigorous focus on visionary innovation to enhance customer value and impact.
CyboEnergy offers on-grid, off-grid, and on/off CyboInverters. First released in 2013, the patented CyboInverter is the world's first solar power Mini-Inverter that possesses the key merits of both central / string inverters and microinverters. CyboInverters offer better safety, scalability, grid-flexibility, DC-source flexibility, high efficiency, long life, easy installation, and good per watt price.
In June 2015, CyboEnergy released the groundbreaking On/Off-Grid CyboInverter that can operate in either on-grid or off-grid mode, switching between the two modes automatically, depending on the grid condition. This enables the same solar power system to generate power to the grid and also act as a power backup system when the grid is down. In July 2017, CyboEnergy released a family of battery-less off-grid and on/off-grid CyboInverters that can run Inverter-Air-Conditioners (IAC).
"Due to grid capacity limitations, on-grid solar systems are no longer welcomed or cost much more to implement in many parts of the world," said Frost & Sullivan's Industry Principal Gautham Gnanajothi. "CyboEnergy's unique battery-less off-grid CyboInverters for electric water heaters and for Inverter-Air-Conditioners (IAC) can change the landscape of the solar industry."
— Solar Builder magazine
[source: http://solarbuildermag.com/news/cyboinverters-receive-2017-global-solar-inverter-technology-innovation-award/]