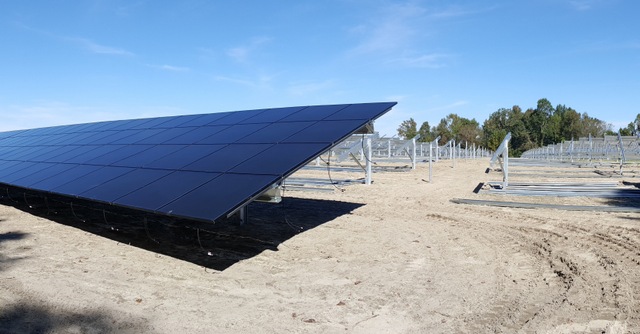 Ecoplexus Inc. announced the closing of financing for a 25-MW solar PV project in Whitakers, N.C. The project will be installed with approximately 150,000 Solar Frontier modules and will achieve commercial operation in late 2015. Its completion will mark the ninth Ecoplexus project in North Carolina and a total of 53 MW in Q4 2015. Representing $45 million in project costs, the project increases Ecoplexus' current IPP asset base which will stand at 77 MWs by year-end.
Ecoplexus develops, owns and operates solar PV projects for the utility and industrial markets in the U.S. and Japan via its wholly owned subsidiary Ecoplexus Japan KK. The company has developed and financed over 50 projects to date. Customers include major utilities such as PG&E, Duke, Progress, Xcel Energy, and Georgia Power and approximately 15 municipalities in the U.S.
RELATED: North Carolina hits 1 GW of solar capacity (we start slow clap) 
The project has a signed long-term PPA contract with Dominion North Carolina Power. Once fully operational, the system will provide North Carolina with approximately 40 GWh of clean electricity annually, enough to power an estimated 3,800 households. The renewable power generated will offset 27,404 metric tons of CO2 emissions, equivalent to the emissions sequestered from nearly 23,000 acres of forest annually.
"We are pleased to contribute to Dominion's renewable energy portfolio and play a role in providing North Carolinians with affordable clean energy," said John Gorman, CEO of Ecoplexus. "With our office in Durham, NC and our projects in the region, we are committed to delivering real and lasting benefits to North Carolina and neighboring states."
Charles Pimentel, COO of Solar Frontier Americas commented, "We are pleased our advanced CIS modules were selected for this PV project developed by Ecoplexus, a company dedicated to building high quality, clean-energy plants."
— Solar Builder magazine
[source: http://solarbuildermag.com/news/ecoplexus-to-construct-25-mw-project-in-north-carolina/]