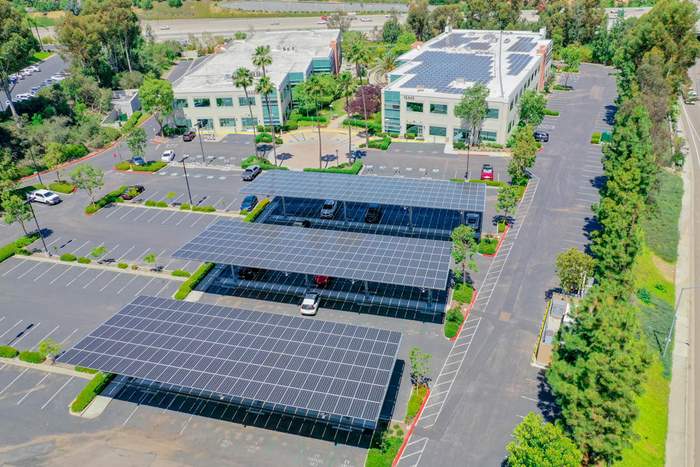 EDF Renewables North America was chosen by Cox Communications to design and build an integrated 360 kilowatt (kW) solar photovoltaic and 560 kW / 1,360 kilowatt hour (kWh) onsite behind-the-meter battery storage solution at the primary Cox Communications' corporate office in San Diego.
The carport and rooftop solar installation combined are projected to offset over 374 tons of carbon each year, contributing to the more than 567,000 tons of CO2 offset by Cox Enterprises since 2007 as a part of the Cox Conserves program.
"Sustainability, and driving positive environmental change, are core to the way Cox does business. We're excited our largest California facility is spearheading the use of solar power and battery storage to reduce our carbon footprint in the region," said Sam Attisha Senior Vice President and Region Manager for Cox Communications in California. "This solar project will generate almost 20% of the building energy usage and moves us closer to Cox Enterprise's goal of sending zero waste to landfills by 2024 and to being carbon and water neutral by 2044."
Solar reduces utility costs by reducing energy consumption while the battery storage shifts the solar generation into the evening on-peak period of expensive power. The storage system will also be used to mitigate spikes in usage thereby lowering utility demand charges.
This project contributes to EDFR's growing portfolio of integrated energy systems in San Diego and could also provide Virtual Power Plant (VPP) grid services to support San Diego's Community Choice Aggregation.
The integrated solar and battery energy storage system will be operated by EDF Store and Forecast Energy Management System (EMS). The software platform has been deployed on over 129 MWhs of integrated renewable and energy storage systems globally and is controlling a portfolio of systems throughout the San Diego region.
— Solar Builder magazine
[source: https://solarbuildermag.com/news/edf-renewables-constructs-solar-carports-at-cox-communications-headquarters/]