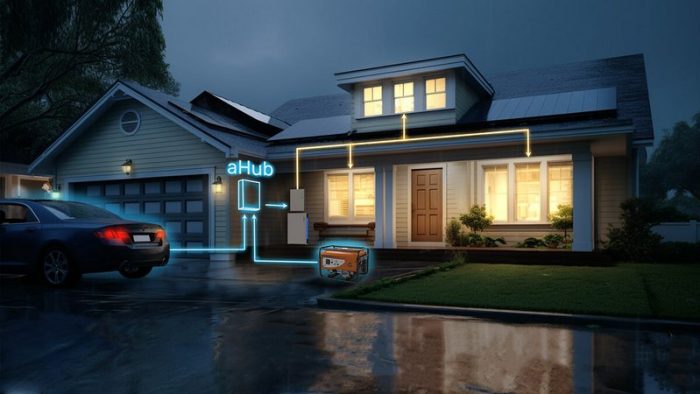 FranklinWH Energy Storage Inc. is adding an adapter to its Franklin Home Power Solution. This adapter, the aHub, will enable 1) the connection of EVs that boast vehicle-to-load (V2L) capabilities and 2) the connection of 120V/240V portable generators.
The aHub works with EVs with V2L to add those vehicles as another potential power source in an extended outage. By working with portable generators, aHub provides a cost-effective alternative to relying on standby generators.
Why go this route? When accounting for purchase price and installation costs, using aHub with a portable generator instead of a standby generator reduces Total Cost of Ownership (TCO) by 50% to 70%.
"Whether due to extreme weather events, issues within our aging power grid or unknown reasons, power outages create a lot of anxiety for homeowners across the country," said Gary Lam, Co-Founder of FranklinWH. "With aHub, homeowners will have more choices on how to power their homes, so they do not have to suffer during extended outages. It's yet another way we are enabling homeowners to take more control over their energy future."
For installers, FranklinWH management believes aHub is easy to install, easy to commission and agnostic to all power sources. It effectively reduces the installer's concerns about matching the model of generator or EV.
For more info on the FranklinWH system, watch this archived episode of The Pitch:
Founded in 2019 and headquartered in the San Francisco Bay Area, FranklinWH's team has decades of experience in energy systems, from design, through manufacturing, to sales and installation. FranklinWH is AVL listed with multiple financial institutions.
— Solar Builder magazine
[source: https://solarbuildermag.com/energy-storage/franklinwh-extends-home-backup-options-to-evs-generators-with-new-adapter/]