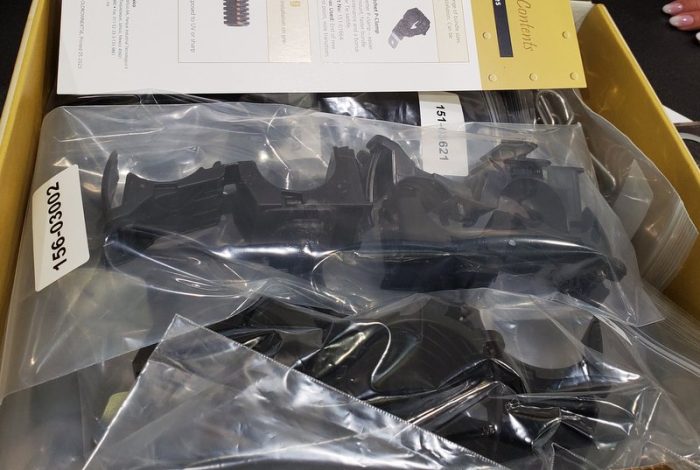 HellermannTyton and Affordable Wire Management (AWM) announced a strategic partnership at RE+2023 to combine their efforts to serve the utility-scale solar power plant sector.
AWM specializes in above-ground cable management and serves many of the leading solar EPCs. HellermannTyton is a global leader in wire management and cable routing. Scott Rand, Co-founder and CEO of AWM, emphasized the strategic value of the alliance:
"HellermannTyton's international reach and connections with EPCs open up markets that previously were beyond our reach. This partnership allows us to demonstrate our innovative approach, and it quickly brings game-changing wire management technology to the utility-scale sector."
One highlight of the partnership is HellermannTyton's Golden Row Kit, shown above. This is a comprehensive package containing select products (such as HellermannTyton's patented Ratchet Clamp family) and installation advice addressing critical areas like the drive train, combiner box, end-of-row and modules.
Each box is curated specifically for each application. That box above, for example, contains wire management and instructions for Nextracker + bifacial panels.
"The goal is to empower solar power plant developers with the technology they need to succeed," stated Ron Kovac, Vice President of Marketing at HellermannTyton. "By joining forces, AWM and HellermannTyton are poised to drive innovation, accelerate market adoption and lead the way in eBOS solutions for utility-scale solar development."
Nick Korth, Market Development Manager for HellermannTyton, added, "Partnering with AWM is a natural progression for us. There's a noticeable synergy between our products and companies. AWM's metal solutions complement our offerings and help us to better serve our customers."
— Solar Builder magazine
[source: https://solarbuildermag.com/news/hellermanntyton-partners-with-affordable-wire-management-on-golden-row-ebos-kit/]