HellermannTyton just released the Series 6 RPC Hanger and Series 6 Fir Tree Fastener, specifically designed to fit the new Series 6 solar modules manufactured by First Solar. The parts' purpose-driven design makes them the only fasteners offering a complete wire management solution.
The Series 6 RPC Hanger can be mounted with one hand. RPC stands for Ratchet P-Clamp, HellermannTyton's proprietary cable clamp that dynamically adjusts to different bundle sizes, which was released in 2016. A steel mounting hanger tolerates high torque and is treated to resist chemicals. The Series 6 Fir Tree Fastener combines an engineered fir tree with an offset and Solar Tie in a one-piece solution. Designed with single-axis trackers in mind, it demonstrates exceptional extraction resistance, even under movement. It can be pre-installed while modules are still on the pallet.
"Installers are always on the lookout for products and processes that can reduce time in the field," said Product Marketing Manager – Energies Nick Korth. "Since these fasteners are custom designed for Series 6 modules, they fit like an integrated part of the system, making them more reliable than typical wire management methods."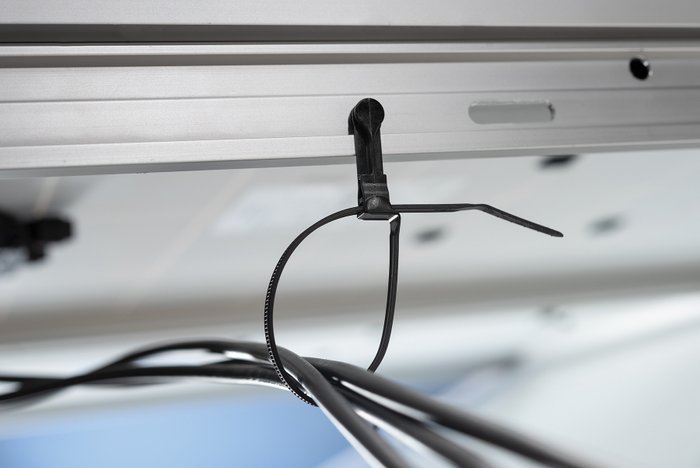 Both products are made from high-impact modified, heat-resistant, UV-stabilized material that withstands UV exposure, chemicals and temperature extremes. No metal comes in contact with wires, so there is no potential for electrical faults caused by sharp, metal fasteners.
— Solar Builder magazine
[source: https://solarbuildermag.com/news/hellermanntyton-releases-solar-wire-management-exclusively-for-first-solar-modules/]