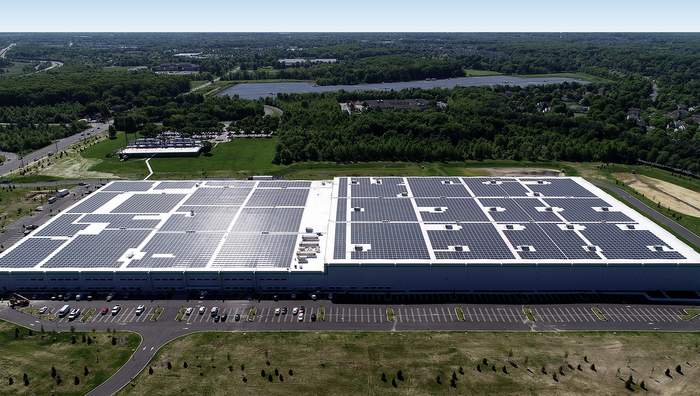 Suntuity, a global turnkey solar energy solutions provider headquartered in central New Jersey, has delivered one of the state's largest contiguous rooftop solar PV systems at Aurobindo Pharmaceuticals' new half a million square-foot warehouse facility in East Windsor. The installation compliments Aurobindo's continued commitment to sustainability and reducing their carbon footprint in correlation to their other solar arrays, including a 30 megawatt (MW) solar power plant in India.
"We procured, engineered and installed enough solar panels on the facility's roof to offset about 50% of the location's expected average yearly electric consumption," said Dan Javan, CEO of Suntuity. "We're excited to continue on the path of building sustainable business practices that directly affect the bottom line of our customers and partners, which include pharmaceutical giants like Aurobindo Pharmaceuticals."
The nearly 17,000 Solar World panel installation boasts a capacity of over 5.5 megawatts (MW) with an estimated annual output of over 6,000 megawatt-hours (MWh) projected within the first year of activation. This is enough power to operate over 600 average US homes for an entire year. From an environmental perspective, the system reduces the annual carbon emissions equivalent to over 1,000 vehicles and 5 million pounds of burnt coal. The solar PV installation is one of many similar commercial and utility-scale projects completed by Suntuity worldwide.
— Solar Builder magazine
[source: https://solarbuildermag.com/news/huge-commercial-solar-rooftop-system-installed-at-new-jersey-based-aurobindo-pharmaceuticals/]