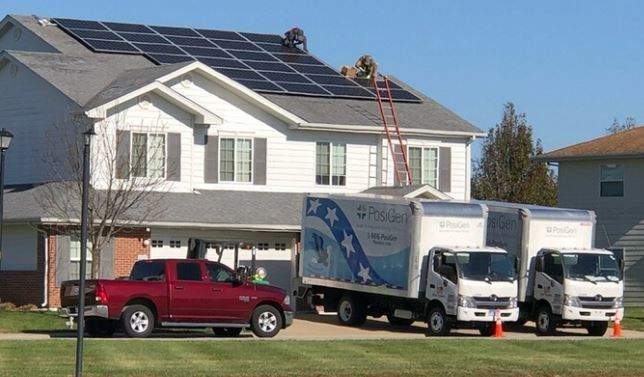 Hunt Military Communities (HMC), the largest U.S. military housing owner, is building on its renewable energy initiatives by integrating additional solar rooftop PV systems across its facility at Scott Air Force Base. This community includes more than 1,500 homes serving 3,000 residents. The 2.8 megawatt PV system will produce an estimated 3.5 million kilowatt-hours of electricity annually and will enable the community to draw 15-20% of its total electricity supply from clean, renewable energy. With this update, HMC has added more than 20 MW of solar across its housing communities nationwide. The project is slated to be completed by Q4 of 2021.
"Hunt Military Communities is wholly dedicated to ensuring that our communities are operating efficiently and with a minimal environmental impact," said John Hoyt, Vice President of Hunt Military Communities. "Through the deployment of solar energy systems, we can help reduce energy costs and reinvest those resources into our communities, reaffirming our commitment to military families across the United States. We value the partnership with the Department of the Air Force in championing sustainability and the significant support of Scott's military leadership."
The installation of the rooftop PV systems will be built and operated by affiliates of True Green Capital Management (TGC), Hunt's solar energy partner with whom HMC has installed ~12 megawatts of solar projects across six military housing sites.
The project directly supports goals set forth by the Department of Defense, as well as the state of Illinois' goal to achieve 100% renewable energy by the year 2050. For HMC, this is the next step in a broad-based effort to improve the sustainability of military housing nationwide.
Deep cycle lead-acid batteries are the most-recycled consumer product in North America. Delivering proven performance, flooded models continue to be the most affordable energy storage solutions for residential off-grid & backup systems. Browse the Rolls catalog here.
— Solar Builder magazine
[source: https://solarbuildermag.com/news/hunt-military-communities-adding-another-2-8-mw-of-solar-pv-at-scott-air-force-base-in-illinois/]