Illinois outpaced 48 states in solar jobs growth in 2018, adding 1,308 jobs in a single year, according to The Solar Foundation's latest National Solar Jobs Census. The 37 percent increase moves Illinois ahead of other Midwest states in solar employment and established the state's solar workforce as the 13th-largest in the nation. More impressively, the gains in Illinois come during a year when nationwide solar jobs fell by 3.2 percent.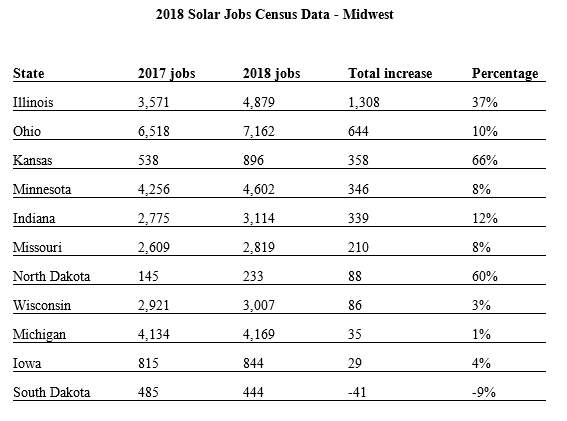 Inside the numbers
Illinois' solar employment grew to 4,879, the Census shows, moving Illinois ahead of Minnesota, Michigan, Indiana and Missouri as strong state policy and rapidly declining solar costs attracted new jobs and investment to the state. The Future Energy Jobs Act of 2016 was an important driver of new solar jobs and investment in Illinois. The Path to 100 Act, announced last week, will ensure that renewable energy job growth in Illinois will be sustained.
"Illinois is poised to be one of the fastest-growing solar markets in the nation and the Path to 100 Act will be a key to its success," said Sean Gallagher, vice president of state affairs for the national Solar Energy Industries Association (SEIA). "As evidenced by these new jobs numbers, markets follow smart policy. The opportunity is ripe here in Illinois to build on the foundation established by the Future Energy Jobs Act and cement the state as a national clean energy leader."
Don't miss our Solar Installer Issue in March — subscribe to Solar Builder magazine (print or digital) for FREE today
The Path to 100 Act is sponsored by Illinois Rep. Will Davis (D-Hazel Crest) and supported by an alliance of industry and advocacy partners. The bill will ensure that Illinois sustains its existing renewable energy success and meets its current policy goal of 25 percent renewable energy by 2025. The Path to 100 Act also moves Illinois toward the goal of 100 percent clean and renewable energy by expanding the state's Renewable Portfolio Standard to 40 percent renewable energy by 2030.
The Path to 100 Act will help create more than 25,000 additional clean energy jobs by driving the procurement of an estimated 6,000 MW of new utility-scale solar, 6,500 MW of new wind, and 7,500 MW of new residential, commercial and community solar in Illinois by 2030.
"The solar jobs growth we saw in 2018 is just the beginning, the industry is ready to create tens of thousands of new clean energy jobs in the coming years," said Lesley McCain, executive director of the Illinois Solar Energy Association (ISEA). "Sustaining that success, however, requires state policy that fits this rapidly growing market. The Path to 100 Act will ensure we don't miss a critical opportunity to reach our clean energy goals and continue attracting new businesses to Illinois."
— Solar Builder magazine
[source: https://solarbuildermag.com/news/illinois-solar-energy-policy-is-an-example-for-other-midwest-states/]