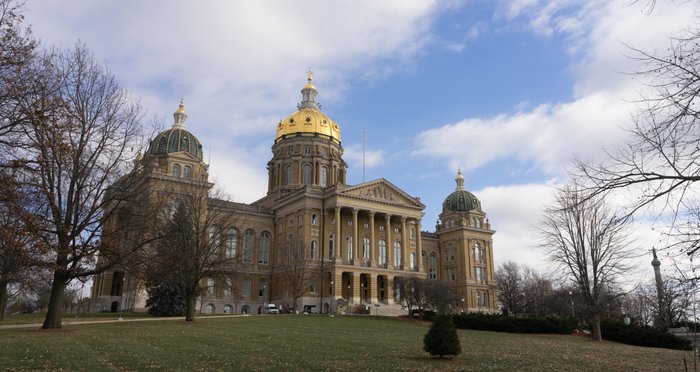 Stuff like this is why California's fight for a Solar Bill of Rights matters. In Iowa, utilities are moving a "sunshine tax" through the state legislature. The bill, which is in front of the full House Commerce Committee, would impose fees of about $300 a year on solar customers under the guise of "grid fees," says the Waterloo-Cedar Falls Courier. That would be a massive blow to owners of PV systems – killing their ROI – and effectively end Iowa's market for new solar customers.
From the Courier:
That would extend the payback on small-scale solar power generating units from less than 10 years to as long as 20 years, former legislator and current Cedar Rapids City Council member Tyler Olson told the subcommittee.

"If the life of system is 25 years — no one going to make that investment," he said, adding that it could lead to the loss of some or all of the estimated 800 solar industry jobs in Iowa, he said.
Pretty much. Fixed charges like this, proposed as fairness to the utility, have been fought and defeated all over the country for years because of faulty calculations of PV's value as a resource vs. grid costs. The article notes that at least one member of the committee wants to delay this action until the results of a utilities board study. Well, to save some time, here is some easy to access information that Iowa legislators are free to Google or find in our archives. We will repost here to save some time.
Benefits of DG solar energy to the grid
Avoided energy costs. Solar energy systems produce clean, renewable electricity on-site, reducing the amount of electricity utilities must generate or purchase from fossil fuel-fired power plants. In addition, solar photovoltaic (PV) systems reduce the amount of energy lost in generation, long-distance transmission and distribution, which cost U.S. ratepayers about $21 billion in 2014.
Avoided capital and capacity investment. By reducing overall demand for electricity during high-load daytime hours that form the peak period for most utilities, solar energy production helps ratepayers and utilities avoid the cost of investing in new power plants, transmission lines, distribution capacity, and other forms of electricity infrastructure.
Reduced financial risks and electricity prices. Because the price of solar energy tends to be stable over time, while the price of fossil fuels can fluctuate sharply, integrating more solar energy into the grid reduces consumers' exposure to volatile fossil fuel prices. Also, by reducing demand for energy from the grid, solar PV systems reduce its price, saving money for all ratepayers.
Increased grid resiliency. Increasing distributed solar PV decentralizes the grid, potentially safeguarding people in one region from other areas that are experiencing problems. Emerging technologies, including smart meters and small-scale battery storage systems, will enhance this value.
Avoided environmental compliance costs. Increasing solar energy capacity helps utilities avoid the costs of installing new technologies to clean up fossil fuel-fired power plants or meeting renewable energy requirements, and avoid the cost of emission allowances where pollution is capped.
There's also this 2014 paper from the Lawrence Berkeley National Laboratory that concluded residential solar has little impact on residential rates but could erode shareholder returns.
— Solar Builder magazine
[source: https://solarbuildermag.com/news/iowa-government-unironically-tables-a-sunshine-tax-on-solar-system-owners-which-is-as-regressive-as-it-sounds/]