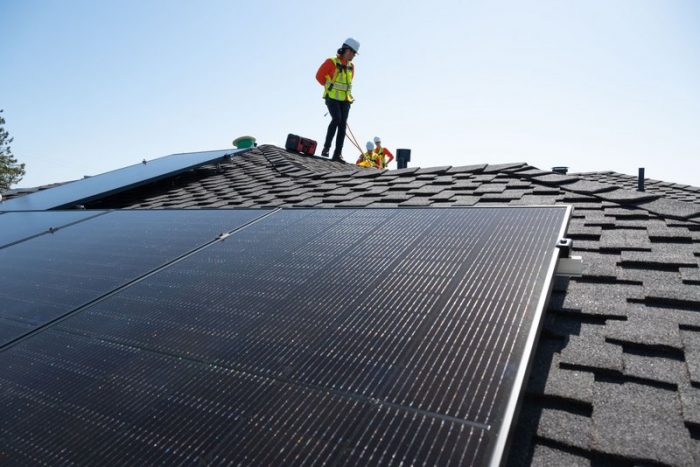 With all eyes on the California Public Utility Commission's (CPUC) net energy metering (NEM 3) decision last year, and how that decision might devalue solar systems for homeowners, national solar installer and service provider Sunnova set its sights on an entirely different distributed energy framework for California homeowners.
In September, Sunnova Community Microgrids California LLC (SCMC) applied for a Certificate of Public Convenience and Necessity (CPCN) from the CPUC "to construct and operate public utility microgrids" and to "establish rates for service." Said another way: Sunnova established a new division, SCMC, to function in the role of "micro" electric utility for planned new residential developments under 2,000 homes and has sought approval from the CPUC for its proposal.
The plan is for SCMC to work in conjunction with homebuilders to install solar PV and energy storage systems in every home in a new development, establish additional community energy storage and solar resources (when feasible), as well as backup generation within the community, and install grid infrastructure such as transformers and substations so that the whole thing functions as a microgrid that can be operated separately from the wider grid. SCMC will service all of the equipment. Customer rates and billing will be handled via SCMC.
This is a novel approach by Sunnova, and it could establish a welcome precedent in the state's electric utility sector.
"California has exposure to grid instability, high costs of power throughout the state, and a requirement for rooftop solar for new builds – so it has a good setup," says Adam Miller, VP of microgrids for Sunnova, explaining why California is the ideal state to debut the SCMC concept.
What's not ideal is CPUC code 218, known as the "over the fence rule," that says an entity that wishes to sell power to more than one end user needs to become an electrical corporation, which is shorthand for a regulated utility. Hence, the filing with the CPUC.
The comment period on the filing has ended, and the ball is now in CPUC's court.
Is there precedent?
The comment period, which recently concluded, drew in protests from investor-owned utilities (IOU), that mostly centered on procedural questions and not the feasibility of the concept, although one protestor did claim that the Commission should not permit another utility to serve customers in an area that a large IOU regards as its service territory.
"If that's the main concern, we're ready to go very deep on that," Miller says. "We've done the legal research on new providers being allowed into the market for the benefit of consumers, and we believe that new market entrants will help bring about the benefits of microgrids that the California legislature envisioned in passing microgrid legislation back in 2018."
A "micro utility" is not new, but it has so far been utilized in very limited circumstances, like where a community can't get power at all. Sunnova also points to other utilities in which existing judicial and CPUC precedent allows for new providers to come into the market.
"The CPCN is the path to establishing a utility, and we think this allows for new entrants," Miller says. "The micro utility approach proposed by SCMC is more about removing the obstacles for small utilities to pursue microgrids so that it doesn't cost a 2,000-home community millions of dollars to set up service. . We're not asking for a new rule; we're asking for permission to use what exists."
Keys to the proposal.
Sunnova is applying to fund and operate community microgrids the same way a utility would, and in some cases exceeding what's standard.
"The use case in the application is a trenched underground distribution network," Miller explains. "We propose to pursue efficient, but reliable microgrid designs.. For example a typical neighborhood construct allows for 1 transformer for as many as 8 houses. But we're looking at designs that add resiliency with one transformer per every 4 houses, to maintain our promise of having reliability, so that if one goes down another nearby could carry the load until it is serviced."
Each project would also have a dedicated substation, allowing imports from the transmission system, when necessary, although the majority of the energy will be produced by the microgrid. When there is extra energy that the community does not need, it can use the connection to the larger grid to provide that energy to the market for use by others.
Meanwhile, a developer and a microgrid operator purposefully building and optimizing a community to share its energy resources has inherent advantages. Innovations like smart meters, communication devices and geo fencing are feasible when a community opts to work with a provider at the outset, and when the focus is strictly smaller in scale.
These communities also would have a service level guarantee as part of the agreement with the community "to ensure we are doing our job," Miller says. "If we're not, we're putting some form of guarantee in place until the service level is back up to where it needs to be. We think that's an exciting value proposition for homebuilders and consumer choice that's overdue."
The focus is fully on new developments, where no service currently exists.
By focusing on new communities, SCMC aims to avoid any impacts on the existing utility systems and customers. As Ben Schwartz, policy manager with the Clean Coalition, put it in his filing in favor of the application, "Because the housing communities will be newly constructed, there is no existing load being transferred away from the distribution grid that could be construed as a loss of sales."
As the NEM 3 proceedings show, IOUs and the CPUC seem extra worried about transmission and distribution (T&D) costs incurred from adding more distributed solar and storage assets. A new community built to meet over 80% of its own needs should be a welcome development because it would require less additional grid infrastructure to serve the demand.
Proposal comments
The California Solar and Storage Association (CALSSA) also strongly supports the SCMC Application for how it complements other CPUC rulemakings. "Integrating the microgrid and electrical infrastructure in the design and new construction process, as proposed, is a very efficient and cost-effective way to deploy and scale these technologies," writes Kate Unger, Senior Policy Advisor with CALSSA. "This will enable the broader commercialization of microgrids over time, as contemplated by Senate Bill (SB) 1339 and Rulemaking (R.) 19-09-009, and will allow many more communities to build and benefit from microgrids."
Unger continues, "[t]his type of planning and design for new home communities aligns with decarbonization and clean energy goals including in SB 100 and SB 350 as well as the recently enacted California Climate Crisis Act, AB 1279 (Muratsuchi), and the Clean Energy, Jobs, and Affordability Act of 2022, SB 1020 (Laird). It also comports with goals of the Energy Commission's Title 24 building codes to electrify buildings to reduce emissions and decarbonize the economy."
Schwartz adds that the CPUC's Microgrids proceeding (R. 19-09-009) that passed five years ago was supposed to lead to a swift implementation of SB 1339, , but that has not yet been the case for Community Microgrids, which run into debates concerning how they will connect to the existing distribution system.
"New communities, constructed together separate from the existing distribution system, are a small subset of projects which are not being considered in the Microgrids proceeding and do not raise the same set of issues as other Community Microgrids might," Schwartz writes. Plus, "two very common questions raised in opposition are how the Community Microgrid operator will be liable and how the Community Microgrid will be operated in parallel with the grid. Sunnova's application answers both of these questions; as a micro-utility, the Commission will have regulatory jurisdiction and the Community Microgrids will only island up to the dedicated substation (not effecting the rest of the grid).
Is it feasible?
Sunnova worked with engineering firm Black and Veatch to harden the SCMC model, simulate the economics, and analyze shortcomings of the system in worst case scenarios. These models show that a SCMC community would produce 80% of the electricity it needs on a regular basis without tapping into the grid or having to use backup standby generators (which can be capable of running 300 hours in case of a wider scale grid outage). California's grid is mixed with about 55% renewable energy sources.
Black and Veatch estimates about 30 minutes of outage a year for the SCMC community. For an IOU, that figure is closer to 2 hours a year on average.
How is this different from other builder communities?
Miller says a differentiator from other neighborhood pilot programs focusing on community solar is "the customers don't get full benefit of production at their home. Solar is on their roof but it flows through the community and they pay for the same quantity as if the solar is not there. They get sustainability benefits but not the reduced volume benefit that a normal nanogrid customer would expect."
How is this different than a virtual power plant?
Virtual power plants (VPPs) are valued for their role as a grid asset. In a typical VPP type scenario, a homeowner gets credits for stored energy that is used on the grid. The physical power flows through the entire service area for miles and miles. "It directionally provides resiliency, but it doesn't provide physical resiliency in the same way," Miller notes.
Here, energy can be limited to the community when the microgrid is operated in island mode. In that mode, all energy generated and stored in the community is used within the community. In both island and connected mode, neighbors share their excess energy with neighbors through SCMC, and the energy that stays in the community is a big part of what makes the entire concept work.
Miller says Sunnova communities could be aggregated as a grid asset for demand response (and community revenue) down the road, but that is not part of the model now.
"Our model is to be homeowner centric and to achieve a certain level of resiliency for the customer," Miller says. "The homebuilders we're working with are focused on building live-work communities, which is a natural fit for microgrids."
How is the rate and customer relationship structured?
The customer's micro utility bill is broken into four parts.
The financial agreement for the microgrid technology sited at the customer's home – the solar, storage, load control, and EV chargers. The customer pays a fee per month for that.
Fees for the distribution of energy within the community, the microgrid controller, the community storage and, potentially, community solar.
Credits for excess production. Customers producing more than they consume will get a credit back.
Customers who require supplemental power are assessed a charge based on whether that demand is served from community assets or the grid.
"Part of the thinking around this application and taking a progressive but measured step forward in a community microgrid is to show the CPUC that we are prepared to operate the community microgrid to a utility standard," Miller says. "As we bring in power from the outside grid, we wouldn't be marking it up like a deregulated energy supplier. This would be a pass through like a utility purchased power charge. And same for the power flowing within the community. Customers get paid for production and are reimbursing their neighbors through SCMC at a fair price."
The more salient point than apples to apples comparisons of a Sunnova microgrid's performance to grid service under an IOU, is the efficiencies gained by staying micro.
A SCMC-style micro utility has an inherently different relationship with its customers – that of a boutique brand with more responsive customer service versus a larger corporate entity with a one-size-fits-millions business model, or even a smaller municipal operator servicing multiple communities.
"Historically speaking, demand response programs, broadly, are well intended but don't have high net promoter scores," Miller notes. "There's a lot of reasons for that, but part of it is it's a challenging situation for a utility."
Looking ahead
Given these broad objectives, Sunnova's proposal should be a welcome innovation.
At this point, Sunnova's main goal is to at least get a hearing. "A hearing will allow these things to be unpacked in more detail, which we would welcome," Miller says.
---
Chris Crowell is Editor-in-Chief of Solar Builder.
— Solar Builder magazine
[source: https://solarbuildermag.com/news/sunnova-micro-utility-details-and-feasibility/]