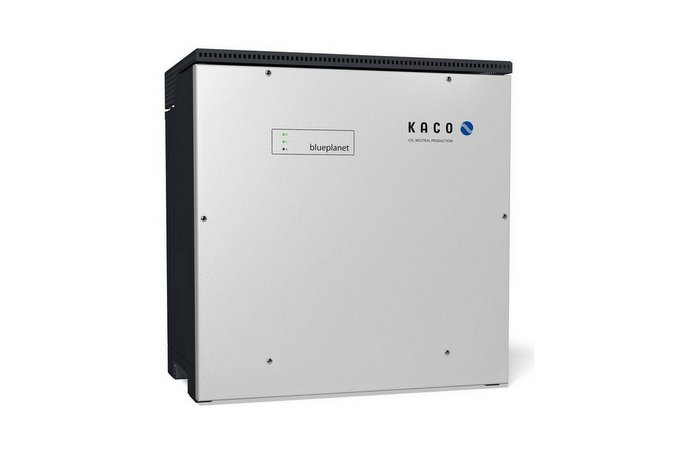 KACO new energy has added five new C&I string inverters to its 1,500-volt product range with outputs between 87 and 150 kilowatts. All new inverters use semiconductor components made of silicon carbide.
Since 1,500 Volt technology is an emerging trend in the solar roof sector, both inverters are also suitable for solar modules with 1,000 Volts. The blueplanet 92.0 TL3 features a nominal AC voltage of 400 Volts: It can therefore be connected to the low-voltage distribution system without a transformer.
New inverters with 110, 137 and 150 kilowatts of output are available to planners and builders of large, utility-scale solar power plants.
Inside blueplanet
The inverters are based on the technology of the blueplanet 125 TL3 which the Germany-based company introduced at the end of 2018. The advantages are mainly due to novel semiconductor components made of silicon carbide (SiC). SiC has more favorable thermal properties than silicon: Power derating at high ambient temperatures only begins at a few degrees above +50 °C.
Check out all of the 2019 Project of the Year winners here right here.
The lower heat generation of SiC means that a smaller heat sink is used. Thanks to material savings such as these, the inverters have a weight of less than 80 kilograms which makes them comparatively light. The blueplanet 150 TL3 in particular has an extraordinary power density of almost two kilowatts per kilogram.
The new inverters are approved for numerous PV markets worldwide; the blueplanet 110 TL3 is the exception in that it is intended solely for the US market. With a view to North America, all inverters comply with protection class NEMA 4X and thus meet the highest requirements for outdoor installation.
Other features include:
DC surge protection as standard, upgradeable AC protection and optional protection of the communication interfaces;
DC disconnection, which is integrated in the XL version of the inverters and implemented in the S version by means of a separate DC-breaker;
an optional PID set.
— Solar Builder magazine
[source: https://solarbuildermag.com/inverters/kaco-adds-five-new-solar-inverters-between-87-and-150-kw/]