Kingspan Energy has recently finished installing more than 500 solar panels on the roof at the North Haven, Conn., Ulbrich Shaped Wire, a division of Ulbrich Stainless Steels & Special Metals.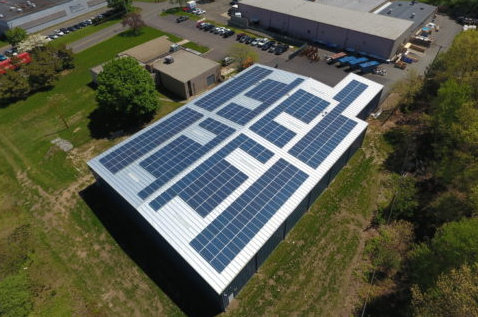 The sustainability of solar energy along with the rising cost of electricity makes the cost of a solar-powered energy system equal to or less than that of traditional energy sources. This fact, coupled with growing concern over pollution from other energy sources, has made clean and renewable energy an increasingly attractive option for customers like Ulbrich.
"What's especially interesting about this application is that the metal that is produced by Ulbrich is used in the modules themselves, making this a highly collaborative project," said Gavin Blower, Kingspan Energy General Manager. "We're working closely with our partners and customers to help facilitate more LED retrofits and solar photovoltaic (PV) installations than ever before, helping businesses across the country realize benefits of reduced energy costs and increased energy security."
System specs
The 508 Hanwha 72-cell 330W panels were installed on Ulbrich's existing warehouse (roof space coverage of 18,837 SF), along with four Solectria inverters and a Polar PRR racking system. The building's conversion to solar power is expected to produce immediate benefits in terms of energy conservation, generating an output of 197,780 kilowatt hours.
According to Kingspan, large-scale rooftop PV installations are an ideal commercial investment, particularly when companies can find the up-front capital. In Ulbrich's case, the company received Class 1 zero renewable energy credits (ZREC) under the Low & Zero Emissions Renewable Energy Credit Program. The ZRECs will generate nearly $20,000 in revenue to Ulbrich annually for 15 years.
Installation of Ulbrich's solar panels was completed in June.
A subsidiary of Ireland-based Kingspan Group, plc, Kingspan Energy is U.S. turnkey provider of rooftop solar PV systems and LED lighting retrofits. The company provides end-to-end service – from design and engineering to construction and financing – with a mission is to insulate and generate in order to create net zero building structures.
— Solar Builder magazine
[source: http://solarbuildermag.com/news/kingspan-energy-installs-500-pv-panels-atop-ulbrich-shaped-wire/]