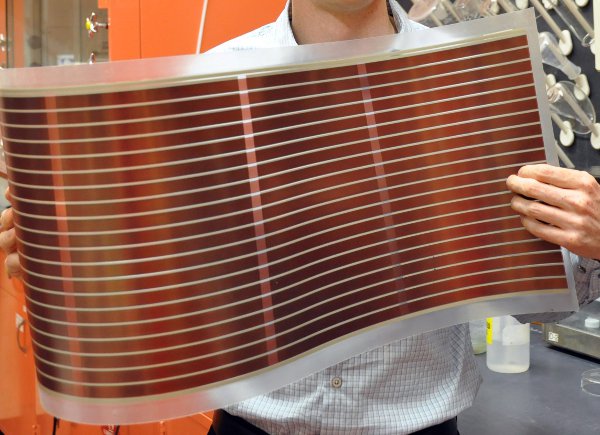 Magnolia Solar has signed a teaming arrangement with India-based InSolare Energy to bring Magnolia's patented solar photovoltaic (PV) technology to market. Magnolia is a subsidiary of Ecoark Holdings, a provider of a growing suite of proprietary technologies and services.
The initial purchase order is for a study of feasibility for applying Magnolia's thin-film solar PV technology to an existing installation on a commercial property.
"When we merged with Magnolia back in March, the investment thesis was that we could leverage our extensive commercial relationships in the U.S. to continue their commercialization efforts and more efficiently drive market penetration for Magnolia's thin-film technology," said Randy May, Chairman and CEO of Ecoark. "Additionally, with the significant drop in solar installation costs, and the increasing prevalence of solar installations, the opportunity to penetrate the market with Magnolia's technology is something we can capitalize on today."
RELATED: High-efficiency, smart panels ready for wider installation 
"We are very excited to be teaming with Magnolia and the Ecoark team," said Sunit Tyagi, Chairman of InSolare. "Ecoark's access to the commercial market in the U.S., combined with Magnolia's patented, thin-film solar technology, opens the door to significant opportunity for us to drive revenue and profitability outside our footprint in India."
Magnolia Solar is engaged in the development and commercialization of its nanotechnology-based, high-efficiency, thin-film semiconductor technology deposited on a variety of substrates, including glass and flexible structures, incorporating a unique nanostructure-based antireflection coating technology, further increasing the solar cell's performance.
InSolare, based in Bangalore, India, is a system integrator and solar energy Engineering-Procurement-Construction (EPC) provider. Its mission is to create and integrate competitive solar energy technology to delight its customers by bringing the best in class, optimal, end to end solar energy solution. InSolare has served several Fortune 500 companies in the U.S.
The two companies collectively are well positioned to compete in the U.S. and India markets based on their extensive expertise in research and development, Solar PV EPC solutions from site & land survey, detailed design (electrical and structural) to commissioning, and maintenance of PV Systems for reliable power generation.
— Solar Builder magazine
[source: http://solarbuildermag.com/news/magnolia-solar-teaming-with-insolare-energy-to-bring-its-thin-film-pv-to-market/]