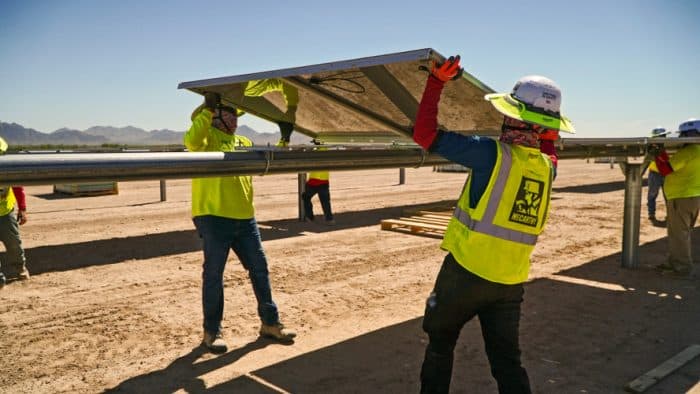 McCarthy Building Companies Inc. has broken ground on four new large-scale solar projects in the U.S. Southwest. The company is targeting Inflation Reduction Act (IRA) compliance with more than 200 new registered apprentices slated to begin work on the projects.
In varying stages of construction, the projects will bring a combined total of more than 1 GW of renewable energy to communities in Arizona and Texas once fully commissioned. The projects are also creating more than 800 new solar construction jobs, of which 200 are slated to be equipment operator, mechanical and electrical apprenticeships and are designed to introduce and train new workers in the growing solar industry.
McCarthy's four newest solar projects in the Southwest that are targeting IRA compliance include:
260 MWdc solar project in Milam County, Texas, which launched in June and is scheduled for completion in December 2024, will hire at least 50 apprentices and currently has 21 on the project.
376 MWdc solar project in Arlington, Arizona, and includes a 300 MW battery energy storage system is expected to complete in mid-2025, will hire at least 50 apprentices and currently has 19 on the project.
260 MWdc solar project in Pearsall, Texas, which is expected to complete in June 2024, will hire at least 50 apprentices and currently has 33 on the project.
217 MWdc solar project in Marana, Arizona, and includes a 213 MW battery energy storage system is expected to complete in March 2025, recently began preliminary site work and is in the process of hiring approximately 50 apprentices on the project.
With the IRA in place, the trajectory for solar is expected to soar and those projects that include apprenticeship programs will reap financial incentives. The U.S. Energy Information Administration (EIA) says that "by the end of 2024, the U.S. is set to add 63 GW of photovoltaic power." This is an increase of 84% in just two years for solar production alone.
"With utility-scale solar construction jobs on the rise around the nation, we are continually working to help local skilled craft workers, veterans and those displaced from jobs in other sectors to join our solar project teams and receive the training needed to develop rewarding careers in the growing renewable energy sector," said Scott Canada, executive VP of McCarthy's renewable energy team. "Now with the IRA, there are federal incentives in place to further support apprenticeship programs that create even more good-paying jobs and expand workforce training pathways into these careers."
In 2021, McCarthy developed a U.S. Department of Labor-approved and registered apprenticeship program to provide an opportunity for workers to earn a salary while receiving both on-the-job training and technical instruction. To comply with IRA requirements, the firm's Renewable Energy group updated its already U.S. Department of Labor accredited program to include renewable energy occupations. McCarthy has successfully registered its solar apprenticeship programs in Texas, Arizona, Colorado, Georgia and Michigan, with registration in additional states in process.
McCarthy's Registered Apprenticeship program, which lasts anywhere from two to four years, pairs apprentices with journey workers to support their development in the first year and requires apprentices to complete 144 hours per year of related instruction to improve their knowledge and skillset. Upon completion of the apprenticeship, graduates receive a nationally recognized credential from the U.S. Department of Labor and are potentially eligible for a wage increase.
McCarthy recently piloted its solar apprenticeship program and new software on the 209 MWdc solar project in Livingston, Texas, which is expected to complete in December 2023, to ensure IRA compliance requirements would be met on future projects. The firm has also partnered with unions in Nevada, Illinois, and California to develop complimentary apprenticeship programs around the nation that comply with Department of Labor and IRA requirements and ensure that the unions have access to the industry's most current technology and equipment.
McCarthy's Renewable Energy group is currently constructing or has completed 85 utility-scale clean energy projects in communities across the country since 2010, delivering a combined capacity of more than 9.5 GW of clean energy production and over 1033 MW of battery storage. Nationally, McCarthy provides engineering, procurement and construction (EPC) services on utility-scale solar projects for private solar developers and utilities, helping them deliver cost-effective clean energy to the communities they serve.
— Solar Builder magazine
[source: https://solarbuildermag.com/projects/mccarthy-200-apprentices-four-solar-projects-texas-arizona/]