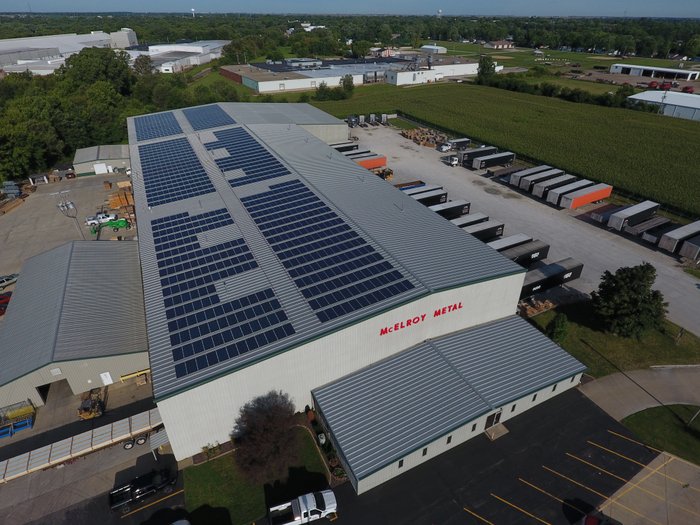 After completing successful solar panel installations with roof recovers at plants in Peachtree City, Ga., and Adelanto, Calif., McElroy Metal recently completed a third solar conversion with its plant in Clinton, Ill.
Inovateus Solar installed 1,116 Hanwha Q-Plus L-G42 350W panels on the facility in Clinton. The system is rated at 390.6 kW DC, has five inverters and is designed for an annual output of 829,289 kWh.
"We're very excited about the addition of solar panels to a third manufacturing facility in conjunction with the roof recover," says Ken Gieseke, Vice President – Marketing at McElroy Metal. "Once we did the math, calculated the return on the investment, it simply made sense to install the solar panels. McElroy Metal remains dedicated to being an advocate for solar energy."
Roof recover details
The original R-panel metal roofing on the plant, constructed in the 1970s, was recovered by McElroy Metal's 238T symmetrical standing seam roofing. A variety of S-5! products were used in attaching the solar panels to the standing seam roofing, including 1,800 S-5-T clamps, specifically designed to fit profiles with a "T" shaped seam configuration, and 850 RibBracket II clamps, which are made for attaching to trapezoidal roof profiles.
In addition, 2,050 MidGrab clamps and 410 EdgeGrab clamps from the S-5! PVKIT 2.0 were also used. The PVKIT 2.0 is comprised of pre-assembled components to save time and money that require the use of only one tool for installation. All parts are made of non-corrosive aluminum and stainless steel and install with the module to reduce layout time.
McElroy's 238T symmetrical standing seam system does not have male and female seams, but is comprised of panels with matching left and right seams. The panels are joined with a mechanically seamed cap. The panels are non-directional and can be installed left to right, right to left or even center to right or left. In addition to installation benefits, symmetrical panels offer easy individual panel removal and replacement for easy plenum access. Panels can even be re-installed, requiring only the purchase and installation of a new cap.
The 238T metal roofing panels were roll formed on site, run directly on to the roof and installed by Prairieland Roofing of Arthur, Ill.
— Solar Builder magazine
[source: https://solarbuildermag.com/news/mcelroy-metal-adds-solar-system-with-roof-recover-at-its-third-manufacturing-plant/]