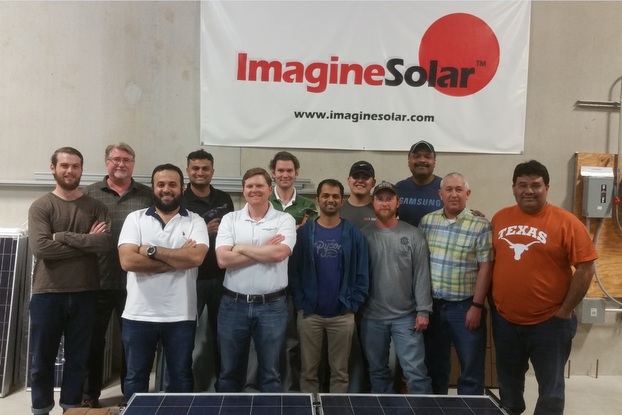 Mission Solar Energy, a U.S. supplier of high-power solar modules, announced a new training collaboration with ImagineSolar, a solar training provider in sync with NABCEP job task analyses for the solar industry.
Mission Solar Energy has committed to providing high-efficiency solar panels and technical materials needed to complete technical and sales training offered by ImagineSolar. In addition to providing product and training materials, Mission Solar Energy's team of engineering and sales experts will provide educational sessions as needed.
"We are always looking for ways to offer our support within the solar industry. Partnering with ImagineSolar is allowing us to contribute in training the current and future solar professionals and ensuring that the end consumers receive a quality solar installation experience," said Sam Martens, Commercial Operations Director of Mission Solar Energy.
RELATED:  Mission Solar to start supplying PV modules to PetersenDean Roofing & Solar
ImagineSolar will feature Mission Solar's panels starting with its upcoming Advanced 5-day Solar Workshop. This comprehensive, hands-on workshop will be held at ImagineSolar's state-of-the-art solar lab facility in Austin, TX, September 7-11, 2018.
ImagineSolar provides training and advisory services to contractors, solar installers, entrepreneurs, and individuals from across the U.S. on solar and smart grid technologies. The Austin-based education provider is only a short distance from Mission Solar Energy's headquarters in San Antonio.
"We continue to upgrade our solar lab equipment using leading edge technology," said Michael Kuhn, founder and CEO of ImagineSolar LLC. "The Mission Solar MSE PERC 72 solar panels lead in their class with very high efficiencies and pair well with the module-level power electronics that our customers install and commission in our hands-on workshops."
— Solar Builder magazine
[source: https://solarbuildermag.com/news/mission-solar-teams-with-imaginesolar-on-new-solar-training-initiative/]