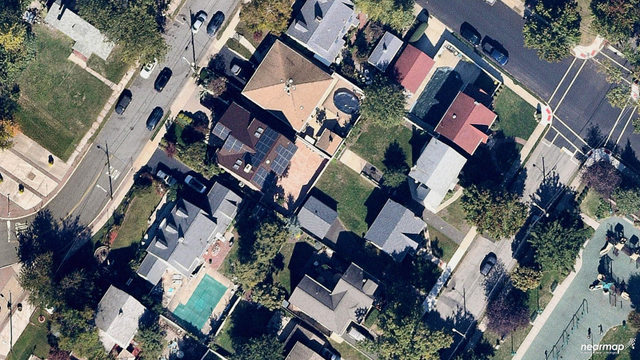 Nearmap and OpenSolar have joined forces to give solar installers a single tool that provides detailed aerial images and solar design software to wow customers and demonstrate the benefits of investing in solar. The application is accessible to both Nearmap and OpenSolar customers and offers installers access to Nearmap's unparalleled library of imagery, including oblique imagery—aerial photography captured at a 45-degree angle.
With that imagery, designers can view a project from multiple angles and see and measure the tops and sides of buildings. They can also view shadows created by trees or other structures, even at different times of the year. Those images can be incorporated into site designs and models, giving installers precise information for panel placements and energy output, and resulting in customers having confidence in their return on investment (ROI) calculations.
What we liked
The best part to us when checking it out at Solar Power International this year was the interactive experience for the customer. A prospective buyer could conveniently browse different solar design options online and learn their ROI projections. The precise designs and current imagery can speed up sales and installations by reducing site visits, permitting delays and change orders. Proposals can even be updated in real-time during calls with customers.
The end-to-end sales toolkit makes everything available through one annual subscription, including imagery, design tools, customer relations management, proposals, branded templates, equipment catalog with full specs, energy estimators, pricing tools and financial modeling.
Other cool things:
How comprehensive it is. Users can design, model, share, propose and close solar business deals from one application that's accessible from any device.
It provides a library of recently captured, high resolution vertical and oblique imagery. This allows precise roof geometry measurements, solar panel designs and ROI estimates.
It is customizable to incorporate solar company brands and adapt to the specific needs of solar companies and their customers.
"This full-service solar design solution bundles the ability to view, measure, design and bid on a project without ever leaving your tablet or computer," said Andrew Birch, OpenSolar's Co-Founder. "Nearmap on OpenSolar can provide sky-high savings on every solar bid and installation."
— Solar Builder magazine
[source: https://solarbuildermag.com/news/nearmap-opensolar-combine-forces-for-a-dynamic-solar-design-and-sales-software-tool/]