A group of renewable energy system suppliers donated their components and expertise to a cool new floating marine lab and environmental education center in Miami, called the Miami Science Barge.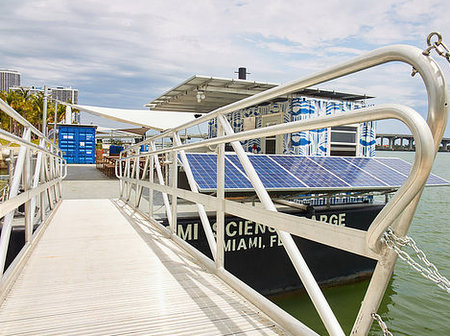 The Miami Science Barge, a 3,600-sq-ft barge docked in the Museum Park in Biscayne Bay, was designed to focus on STEM education and sustainability initiatives. It features three interconnecting zones that will educate visitors on a number of topics including living ecosystems, marine experiments and renewable energy.
JinkoSolar donated 16.9 kW of its high-efficiency modules, enough to allow it to function completely off-grid. Aboard the barge there will be around 75 kWh of storage, enough for a total of three days' worth of stored energy. There will be a cost savings of over $1,000 per year, which will be used toward ensuring that the barge's programs can be provided free to those with limited financial means.
Sonnedix USA Services Limited, a member of the Sonnedix Group of Companies, donated the solar inverters, provided engineering support and coordinated the donation of energy storage equipment from Pittsburgh-based Aquion Energy.
Andreas Mustad, Director and CEO of the Sonnedix Group of companies, said: "Spurring an interest in Miami's youth regarding how easily a self-sustaining platform can be implemented on even a limited footprint such as the science barge leaving ample room for the activities aboard is something we are extremely proud to be a part of and one of several corporate social responsibility initiatives we are committed to supporting globally."
"The Miami Science Barge embodies sustainability and solar panels are a critical part of our identity. We are one of the few places in South Florida where the public are able to see solar energy at work and learn about how the Sunshine State should be a leader in harvesting this amazing renewable resource." said Nathalie Manzano, Director of the Miami Science Barge, "The Miami Science Barge team is thankful to JinkoSolar, Sonnedix, and Aquion Energy for donating the solar energy system which we depend on to provide reliable, constant energy to keep our plants and animals alive."
— Solar Builder magazine
[source: http://solarbuildermag.com/news/new-floating-marine-science-barge-in-miami-powered-by-pv/]