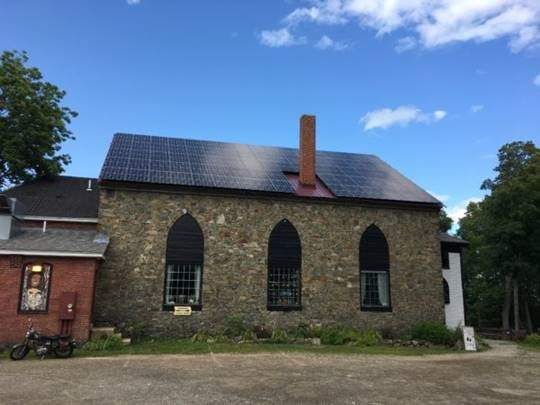 The Stone Church Music Club in Newmarket, N.H., celebrated the installation of a 26 kW rooftop solar array that will produce 32 MWh of electricity and reduce the carbon emmisions by over 30 thousand pounds per year. The system was installed by ReVision Energy of Brentwood N.H. The system is expected to save the Stone Church over $100, 000 over the next twenty years.
The Town of Newmarket has placed an emphasis on sustainability with the creation of the Energy and Environment Committee led by Council Chair Toni Weinstein. This committee is focused on reducing the community's carbon emmisions and is working to create more environmentally-minded public policies.
The historic Stone Church Music Club, in operation since 1970, was honored to have U.S. Senator Jeanne Shaheen, Town Administrator Steven Fournier, Councilor Toni Weinstein and Ken Yearman of the U.S.D.A. joined in the ceremonial ribbon cutting.
Current owner Cheryl Hoffman stated, "In conjunction with the music club's mini-split heat-pumps, every day the sun is shining, we are getting free heat and air-conditioning."
— Solar Builder magazine
[source: https://solarbuildermag.com/projects/new-hampshires-stone-church-music-club-will-save-100000-over-20-years-thanks-to-solar-system/]