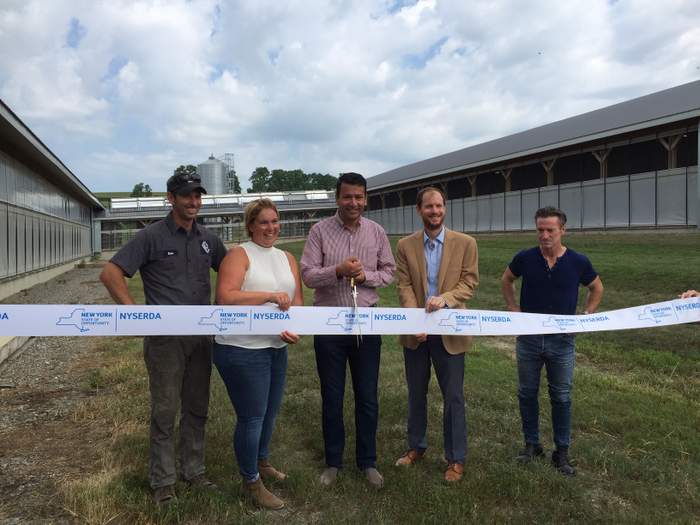 Skyven Technologies completed the installation of its Intelligent Mirror Array at Copses Farms in Valley Falls, N.Y., according to the New York State Energy Research and Development Authority (NYSERDA). Skyven's Intelligent Mirror Array is a renewable solution for industrial steam that can be used to reduce greenhouse gas emissions from industrial boilers. It uses specialized collectors, similar to solar panels, that capture heat from the sun to raise the temperature of water. The heat is then injected into industrial boilers to reduce fuel consumption, thereby reducing greenhouse gas emissions.
The ribbon-cutting ceremony was held at Copses Farms, a 2,600-acre robotic dairy farm with 720 cows in the Capital Region. Robotic farms use a higher amount of hot water to clean the equipment after each use, which is why the use of Skyven's system is so valuable to this type of farm. The panels installed at Copses Farms provide enough heat to produce 50,000 gallons of hot water annually. This is its first New York State installation and only the second installation in the country.
More on Skyven
Skyven, which is based in Dallas, was named the $1 million grand prize winner of the 76West Clean Energy Competition in 2017 and manufactures the Intelligent Mirror Array in New York's Southern Tier. That too is a function of the 76West competition — as a condition of the award, all companies must either move to the Southern Tier or establish a direct connection with the Southern Tier, such as a supply chain, job development with Southern Tier companies and so on.
The 76West Clean Energy Competition is one of the largest in the country that focuses on supporting and growing clean energy businesses and economic development. Skyven, worked with Cameron Manufacturing and Design in Horseheads to manufacture the nine panels. The Radiant Store, based in Troy, installed the panels at Copses Farms.
"Skyven's Intelligent Mirror Array is a giant step forward in the solar thermal market by providing concentrated solar technology to industrial and commercial businesses on a global scale at a fraction of the cost," said Terry Moag, owner of The Radiant Store. "The market for this technology is truly massive so I am really impressed with the performance of the system and thrilled our technical team at Radiant had the opportunity to install the system which will help New York reach its clean energy goals."
More about 76West
Currently in its fourth year, 76West is a $20 million competition and support program administered by NYSERDA that started in 2016. Each year applicants compete for a $1 million grand prize, a $500,000 award and four $250,000 awards. In total, 76West is providing $10 million in awards and $10 million for business support, marketing and administration through the Regional Greenhouse Gas Initiative and the Clean Energy Fund.
As part of this year's 76West competition, 18 semifinalists will pitch their companies to a panel of judges on August 7 and August 8 at Binghamton University. The judges will then recommend the six finalists who will receive a total of $2.5 million in prizes. Winners will be revealed in the fall. The 18 semifinalists, representing a diverse spectrum of clean energy technologies such as energy storage, energy efficiency, transportation and renewable energy, were chosen from a pool of 169 applicants based in 14 countries and 21 states.
— Solar Builder magazine
[source: https://solarbuildermag.com/news/new-york-prize-winner-installs-its-first-solar-solution-for-industrial-steam/]