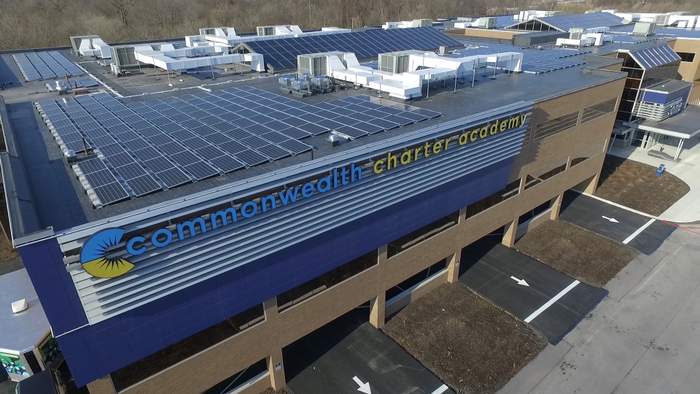 Commonwealth Charter Academy (CCA), a Pennsylvania public cyber school, partnered with a Pennsylvania renewable energy developer to install more than 1,000 solar panels at CCA's Capital Campus.
As part of the school's commitment to improving sustainability and to minimizing its carbon footprint, CCA worked with Solar Renewable Energy LLC to equip its Harrisburg office with 1,080 solar panels that will produce approximately 500,000 annual kilowatt hours – the energy equivalent of 437,000 pounds of burned coal.
This eco-friendly annual power generation will support one-third of the electricity consumption at CCA's 180,000-square-foot Capital Campus, resulting in an estimated savings of $60,000 a year.
"At CCA, we are always in search of innovative ways to improve as a school for our students, families and Pennsylvania communities," said Tom Longenecker, chief operating officer of CCA. "We are a cyber school. We understand the importance of applying new technology to produce positive outcomes. This solar array is a long-term strategic contribution to society as a component of CCA's commitment to the environment and the educational offerings we provide for students."
Don't miss our Solar Installer Issue in March — subscribe to Solar Builder magazine (print or digital) for FREE today
Partnering with Pennsylvania companies is important to CCA. The school identified Solar Renewable Energy, LLC as a company that could construct and install the solar array, which includes SolarEdge optimizers to maximize power generation.
"Solar Renewable Energy is very pleased to add CCA to the growing list of clients that truly appreciate and protect the environment," said Doug Berry, CEO and president of Solar Renewable Energy, LLC. "What is unique with CCA is that students benefit from the opportunity to simultaneously learn, monitor and participate in the exciting world of renewable energy."
CCA's zero-waste aquaponics learning center, AgWorks at CCA, will be 100 percent powered by the renewable energy generated from the solar array. CCA students will be able to learn about power generation through a digital dashboard that will monitor the energy produced by the solar array system.
Solar Renewable Energy, LLC assisted CCA in earning a state grant in the amount of $213,000 to apply toward the solar array system. CCA has entered into a power service agreement with a Solar Renewable Energy entity in which CCA plans to fully purchase and take ownership of the system after six years.
Recent renovations to CCA's Capital Campus also included the installation of energy-efficient lighting to reduce costs.
— Solar Builder magazine
[source: https://solarbuildermag.com/news/pennsylvania-public-cyber-school-adds-solar-to-support-one-third-of-its-consumption/]