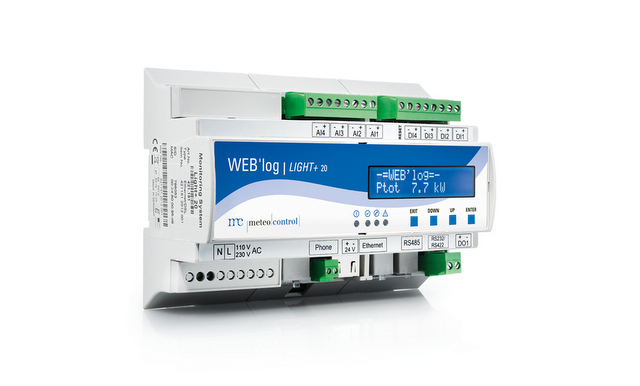 meteocontrol North America, Inc., a subsidiary of meteocontrol GmbH and a provider of solar performance monitoring software, services and hardware, has upgraded its WEB'log data logger with a new intelligent control algorithm that gives photovoltaic (PV) system operators a higher degree of flexibility in regulating what proportion of self-generated energy is used on-site and how much is supplied to the power grid, ranging from 0% to 100%.
To test its control algorithm, meteocontrol recently installed the upgraded version of the WEB'log on a 625 kWp roof-mounted PV system in Bologna, Italy. Once deployed, the WEB'log precisely managed the system so that solar energy was used solely for cooling the operator's large warehouses containing perishable food items. Even extreme fluctuations in consumption did not result in energy being fed back into the grid. For example, when the warehouses were being cooled, sudden power shifts can exceed 100 kW.
RELATED: WATCH: APsystems EMA and ECU monitoring system basics explained 
The system's actual consumption and generated power are continually measured to ensure precise control, with the algorithm quickly and accurately making readjustments as needed. WEB'log data loggers regulate the energy generated by the inverters so that the 10-minute average complies with the limit value of the agreed connection output. At around noon, the hottest time of the day, the power drawn from the grid is reduced drastically resulting in significant cost savings.
Implementing WEB'log's grid feed-in management tool requires the installation of the meteocontrol Power Control Station. Fully compatible with the WEB'log data logger, this measurement control cabinet acts as the interface between the grid operator and the system. It can be individually configured to meet specific requirements, making it an all-in-one solution for PV systems of various sizes.
For more information, visit www.meteocontrol.com.
— Solar Builder magazine
[source: http://solarbuildermag.com/news/pv-system-energy-regulation-control-with-weblog/]