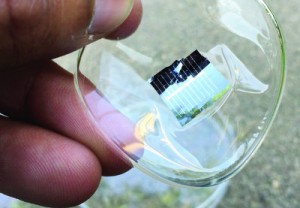 Rayton Solar, Inc. announced a plan to bring its cost-effective solar panel manufacturing solution to fruition with a Regulation A+ equity crowdfunding campaign, allowing anyone in the United States to support the company's vision. Read our original story on Rayton here.
Rayton Solar has bridged the gap between particle accelerator technology and solar energy production to create a revolutionary silicon cutting technique. This technique has the potential to reduce solar panel manufacturing costs by upwards of 60 percent compared to industry standards, while making them 25percent more efficient, and resulting in the most cost-effective source of energy on earth.
Individuals interested in learning more about the Rayton Solar opportunity can visit here.
Rayton Solar's breakthrough process represents a paradigm shift in the solar industry. Silicon is the most expensive component of a solar panel. The industry standard manufacturing process uses 400 microns of silicon per wafer. Conventional wafers are 200 microns thick and the process wastes another 200 microns of raw material to sawdust. Rayton Solar's process solves this problem by using a particle accelerator to implant silicon ingots and exfoliate a thin, 3 micron strata of silicon directly off the ingot. A substrate is attached to the silicon strata and it is removed with zero cutting waste. Rayton Solar's technique yields a 3-micron thick wafer with zero waste.
By using very small quantities of silicon, Rayton Solar is able to take advantage of float-zone silicon – the highest grade of silicon available today – in its manufacturing process. To date, no other manufacturer has been able to economically utilize float-zone silicon in the production of solar panels. As a result, Rayton Solar has the capacity to develop 24% efficient solar panels, a significant improvement over the current 19% high-level cell efficiency rate. The increase in efficiency has the potential to result in a 25% reduction in balance of system costs (installation, racking, maintenance costs, etc.). This method has the potential to increase efficient adoption of solar panels and dramatically decrease the cost of energy for utility, commercial, and residential use.
"The solar industry has seen tremendous growth over the past couple years and we have reached the point where it is just about to overtake fossil fuels as the least expensive source of energy on the planet. We know solar is the most sustainable energy source for the future of humanity. Solar needs a slight push to get it over that threshold where it can compete with fossil fuels. Rayton Solar's technology is that push." says Andrew Yakub, CEO of Rayton Solar. "Thanks to our Reg A+ campaign, now anyone can join us in bringing this vision to life."
Solar energy is the fastest growing source of renewable energy, and the solar panel market is slated to grow from $24.2 billion in 2014 to more than $180 billion by 2021. Rayton Solar's objective is to create the world's most cost-efficient solar panels to reduce energy costs, offset carbon footprints, and transform the energy source of the world. By making solar energy less expensive than fossil fuels, more efficient than alternatives, and accessible to everyone, Rayton Solar plans to expand solar power's share of the enormous energy market. In turn, by opening up this equity campaign to the public, the company is inviting anyone interested in taking part in this global energy shift to support Rayton Solar as it aims to produce the most cost-effective source of energy in the world.
Rayton Solar will be one of the first ten companies ever to use the equity crowdfunding platform to raise capital.
— Solar Builder magazine
[source: http://solarbuildermag.com/news/rayton-solar-opens-crowdfunding-round/]