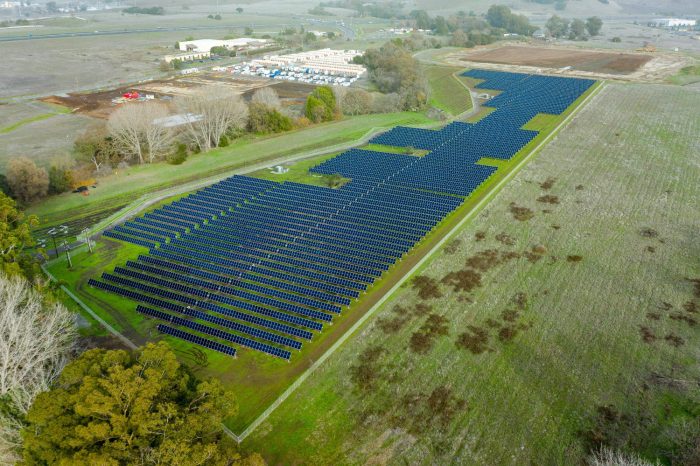 Renewable Properties has closed its Fund 8 portfolio consisting of nearly 30 MW of community solar projects in California and New York. The company partnered with two financing firms, Nelnet Renewable Energy and AB CarVal.
Founded in 2017, Renewable Properties is a San Francisco-based developer and investor in small-scale utility and community solar projects. The closing of Fund 8 reflects the company's strong ties to financing partners that have consistently supported Renewable Properties' local renewable energy projects and company operations by continuing to commit additional capital year after year.
"AB CarVal and Nelnet have been reliable Renewable Properties partners, enabling us to expand our community solar project portfolio to 15 states," said Allan Riska, chief investment officer at Renewable Properties. "We are grateful to have two steadfast financing partners and community solar advocates that believe in our mission to drive renewable energy forward for local communities."
In 2020, funds managed by project loan partner AB CarVal, a global alternative investment manager, invested $60 million to support the expansion of Renewable Properties' operations. The capital allowed Renewable Properties to further develop its existing community-scale solar project pipeline, expand development efforts into new and existing markets, and secure new project opportunities and acquisitions.
"Renewable Properties has produced an extensive and diverse track record of small-scale utility and community solar projects throughout the U.S.," said Jerry Keefe, principal at AB CarVal.
Fund 8 is Renewable Properties' fourth tax equity fund partnership with Nelnet, a corporate tax equity partner that also has a solar engineering, procurement, and construction and operation and maintenance business.
"With our shared commitment to community solar and providing superior customer experience, Renewable Properties has been an excellent partner for Nelnet through three prior funds," said Scott Gubbels, president of Nelnet Renewable Energy.
The Fund 8 projects are located in California and New York, adding to Renewable Properties' growing pipeline of community solar projects in 15 states. Totaling nearly 30 MW, the projects are expected to produce enough energy to power 4,438 homes per year.
Two Fund 8 projects are in Madera County, California. The 11.5 MW Avenue 26 Solar Phase I & II projects will begin construction in the second quarter of 2023 and should be completed by the end of the year.
Unique to California, these two projects are part of California's Disadvantaged Communities Green Tariff program, which is designed to promote the installation of community solar projects in disadvantaged communities as identified by CalEnviroScreen.
Fund 8's New York projects are in various stages of development. The Slayton Settlement Solar A & Slayton Settlement Solar B projects in Lockport began construction at the end of 2022 and are expected to be online in October of this year. Two projects in Batavia will commence construction by May 2023 and are expected to be finished by December 2023. The Clemons Road Solar project in Minoa will commence construction in April 2023 and is expected to be operational by end of the year. Together, the 18.4 MW from New York projects are expected to produce enough energy per year.
— Solar Builder magazine
[source: https://solarbuildermag.com/projects/renewable-properties-closes-financing-30-mw-community-solar-projects/]