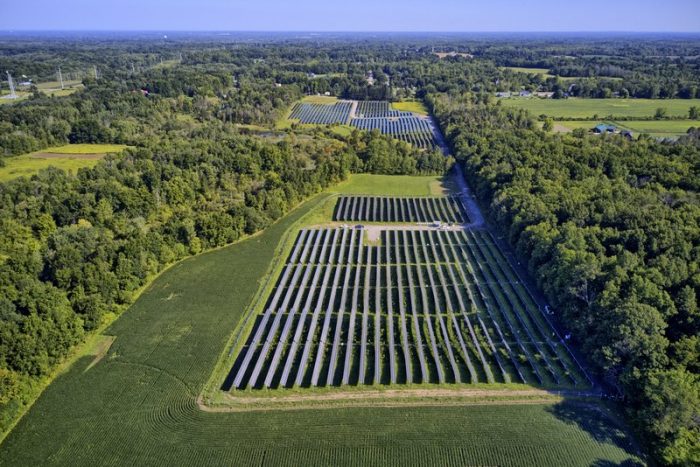 Renewable Properties, a developer and investor in small-scale utility and community solar projects, has completed the purchase of 96 MW of solar modules from Anza, a digital marketplace and optimization solution for solar module procurement that was recently launched by Borrego. The 96 MW of bifacial monocrystalline modules were purchased from Anza in five separate deals.
With its latest purchase of 30 MW of modules for projects in multiple states, Renewable Properties will continue growing its pipeline of community solar projects across the U.S. In addition to supporting current and upcoming Renewable Properties projects, a portion of the latest purchase will be reserved for supporting project acquisition efforts, including working with developers seeking community solar project finance solutions.
Renewable Properties turned to Anza, a web-based solar and energy storage procurement platform, for assistance when supply chain disruptions forced the company to engage in direct procurement rather than relying on its EPCs to procure modules.
The Anza's procurement platform helps identify the best modules for each project. By procuring modules through Anza, Renewable Properties has gained better pricing for quality tier 1 bifacial monocrystalline modules, such as 540-watt modules from VSUN and BYD.
"While the Inflation Reduction Act has provided an unprecedented opportunity for increased solar development, continuing supply chain constraints could hamper that development," says Alejandro Fernandez, VP of Construction at Renewable Properties. "Thanks to Anza, Renewable Properties is ready to capitalize on the new legislation as we expand our development, construction, and project acquisitions. Anza's solution has allowed us to rapidly purchase large-format modules that reduce our EPC costs. Securing these modules today will help solidify our position as a leader in community solar in 16 states."
Anza also provides vendor due diligence that includes assembling and reviewing technical production and installation documentation, contractual documentation, and bankability and reliability information.
Anza's pre-negotiated contracts typically include a negotiated warranty to reduce customer risk. Third-party inspections are conducted by a reputable standards company during equipment production, and a forced labor task force reviews every vendor.
Some of the modules will be used in two upcoming multi-megawatt local energy projects in Northern California, positioning Renewable Properties for expansion in a state whose community solar market is set to take off with its recently passed community solar legislation.
Another portion of the modules will be deployed for two community solar projects in Lockport, New York, which recently became the top community solar state in the U.S. Other modules were used for several other California, New York, Maine, and North Carolina projects.
"The Anza platform has helped Renewable Properties simplify and improve its module procurement process," says Aaron Hall, president of Borrego and Anza. "With Anza, Renewable Properties was able to rapidly see which modules out of a full range of options produced the highest net present value for their projects. In addition, because of Anza's product due diligence, the modules selected were also the lowest risk. The modules procured will enable Renewable Properties to quickly deploy even more community solar throughout the U.S., supporting local renewable energy and local jobs."
— Solar Builder magazine
[source: https://solarbuildermag.com/news/renewable-properties-utilizes-borregos-anza-marketplace-to-secure-96-mw-of-solar-modules/]