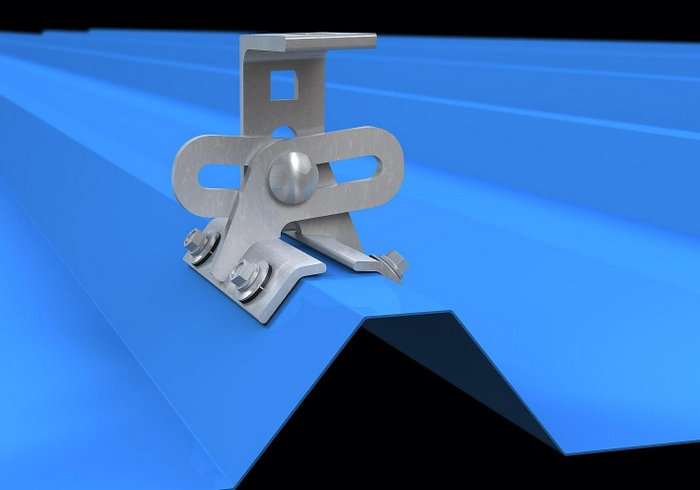 SnapNrack and S-5! are teaming up. The two renowned rooftop solar mounting suppliers announced a joint partnership to offer select metal roof attachments from both manufacturers as a single kitted solution.
SnapNrack is partnering with S-5! to now offer installers a kitted solution with S-5! metal roof brackets and SnapNrack All Purpose L Foot attachments. In the past, installers assembled the two components together on the roof, which required fumbling around with different nuts and bolts; now these kits will eliminate this cumbersome step.
"We started as installers and have always focused on providing solutions that make the solar installation a simpler process through pre-assembled hardware and ease of use. This partnership with S-5! will continue that tradition," stated Andrew Wickham, Director of Products & Engineering at SnapNrack. "We're excited to partner with the world's leading metal roof attachment provider and work to simplify solar installations on metal roofs for everyone."
As a result of this partnership, SnapNrack Applications Engineering can fully support installers with design and installation questions and other product resources expected with SnapNrack. The kitted solutions will include S-5!'s CorruBracket, SolarFoot, ProteaBracket, VersaBracket and S-5-N Mini with SnapNrack's All Purpose L Foot. Read about all of these in our Rooftop Solar BOS Buyer's Guide.
By expanding the portfolio to include S-5! brackets, SnapNrack can better support small commercial installers and projects along with expanding their geographical footprint.
"SnapNrack is a great fit for us," said Mark Gies, S-5! Director of Product Management. "They too believe in doing things The Right Way™. Their industry experience serves installers well. We look forward to developing a long-standing partnership together."
SnapNrack and S-5! will both display the kitted attachments at the RE+ 2023 trade show from Sept.12 – 14 in SnapNrack Booth #4755 and S-5! Booth #3335.
— Solar Builder magazine
[source: https://solarbuildermag.com/news/s-5-metal-roof-brackets-now-kitted-with-snapnrack/]