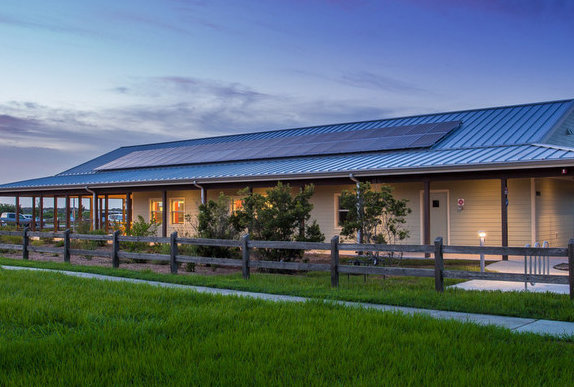 The design for Sarasota's Audubon Nature Center has earned Zero Net Energy Building Certification from the New Buildings Institute (NBI). Zero net energy (ZNE) buildings are ultra-efficient new construction and deep energy retrofit projects that consume only as much energy as they produce from clean, renew-able resources.
The Audubon Project completed construction in January 2016, and the project team provided detailed information in addition to a full year of electrical use data to NBI to document the ZNE performance of the building. The design team included Sarasota Audubon, Carlson Studio Architecture, Brilliant Harvest for the solar system design and installation, Quest Engineering for the Mech/Elect design and Hees and Associates for structural engineering. Roger Landryof ESC LLC, provided commissioning services. Willis A. Smith Construction was the contractor.
The project also achieved LEED Gold Certification in the LEED for New Construction, from the US Green Building Council.
New Buildings Institute  is a nonprofit organization driving better energy performance in commercial buildings. We work collaboratively with industry market players—governments, utilities, energy efficiency advocates and building professionals—to promote advanced design practices, innovative technologies, public policies and pro-grams that improve energy efficiency.
— Solar Builder magazine
[source: https://solarbuildermag.com/news/sarasota-nature-center-earns-zero-net-energy-building-certification/]