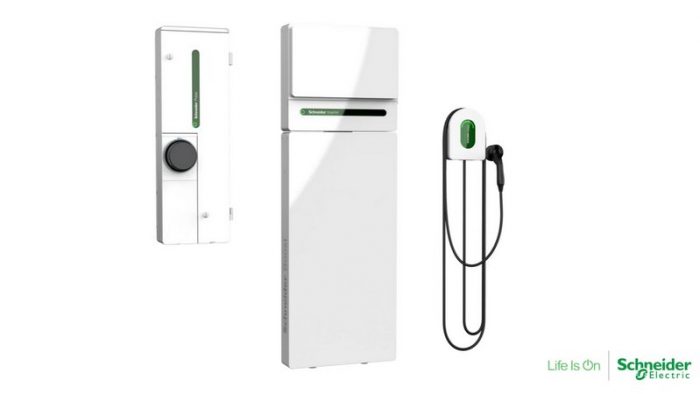 At the Consumer Electronics Show (CES) in Las Vegas, Schneider Electric unveiled a new home energy management system that includes a home battery, a solar inverter, a smart electrical panel, EV charger and connected electric sockets, switches. These are all controllable from the Schneider Home app.
Schneider is hyping Home's ability to tie together utility power, solar, back up battery and EV charging. It includes the ability to monitor energy consumption by individual appliance, decide where to prioritize power during an outage to extend available back up power, and avoid expensive electrical service upgrades when purchasing an EV.
The solution also allows homeowners to save by enrolling in utility programs and qualify for tax incentives.
"Choice, control, convenience – these are the characteristics that consumers are looking for in every experience," says Jaser Faruq, SVP, Innovation & Energy Storage at Schneider Electric. "What better or more meaningful place to deliver that than in their own homes? We took the opportunity to reimagine home energy placing the customer at the center, then designing a full-featured, integrated system around their needs and paired with an intuitive app to simplify its operation."
The full system is for sure a nod to where solar, storage and home energy systems are all headed. Not just because of what it can do (you can cobble together such a setup now with other brands), but because one brand is providing the entire hardware and software package.
"There's never been a greater need for transformation or a greater opportunity for positive impact and innovation is how we empower consumers on their path to net zero," says Nadege Petit, EVP, Innovation at Schneider Electric. "Homeowners are now able to produce their own energy and seamlessly switch between power sources to optimize cost. Schneider Home provides them the tools for a self-sufficient home, reducing their environmental impact, while saving them money on their energy bills."
Schneider Home energy resources and digital capabilities
Schneider Pulse: A smart electrical panel powered by embedded technology, functionality, and intelligence to interconnect various energy sources within the home.
Schneider Boost: The home battery for energy storage.
Schneider Inverter: The high-power hybrid inverter for solar and storage.
Schneider Charge: The electric vehicle charger.
Schneider Home: The single app to control it all.
Cool features
Predefined and customizable energy saving settings, like Away Mode, to power off non-critical appliances when not needed, customize lighting scenes and set up your battery to maximize savings
Intelligent EV charging when rates are lowest – or directly from solar
Reduced time and complexity of installation in comparison to legacy systems
Minimal footprint and streamlined design taking up less space than current configurations – less clutter, more curb appeal
The Schneider Home energy management solution is modular in design and can be purchased as a full suite or incrementally as homeowners' needs evolve. The complete solution will roll out over the course of 2023.
— Solar Builder magazine
[source: https://solarbuildermag.com/energy-storage/schneider-wraps-solar-inverter-battery-into-home-energy-management-system/]