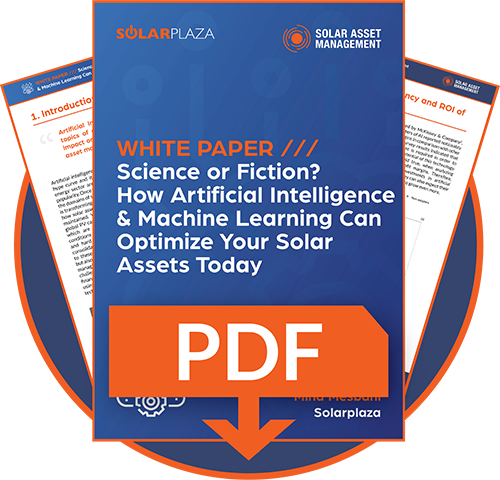 At the top of its hype cycle, Artificial intelligence (AI) is transforming the energy landscape, revolutionizing how solar assets are managed, operated and maintained. The ever-expanding global capacity of solar PV combined with the growing disparity of these assets have made the job of an asset owner only more complex. There are substantial financial and efficiency gains to be made in using AI-driven solutions. Moreover, as AI technology advances and becomes more ubiquitous, it is incumbent on every solar asset owner to answer the question of how this technology will disrupt the industry and can benefit their portfolio.
The latest white paper, published by Solarplaza, explores the areas, which are enhanced by AI, utilizing case studies to capture the current potential of artificial intelligence to drive efficiency and Return On Investment (ROI) in solar portfolios. Furthermore, the facets of asset management and O&M that can be automated are discussed, to help you navigate through the noise surrounding the topic of AI. Different Machine Learning (ML) techniques, which have been or can be deployed in the overall operations and management of solar assets, are also examined to provide a working understanding of this complex technology.
It is important to remember that the true promise of AI will be fulfilled only when treated as a strategic capability that can mature over time, which requires well-thought planning. Join the pre-eminent Solar Asset Management North America 2019 conference, dedicated to optimization of the operational phase of solar plants and portfolios, to meet the sharpest minds leading the next wave of AI applications in the solar energy sector.
— Solar Builder magazine
[source: https://solarbuildermag.com/news/science-or-fiction-how-artificial-intelligence-and-machine-learning-can-optimize-your-solar-assets-today/]