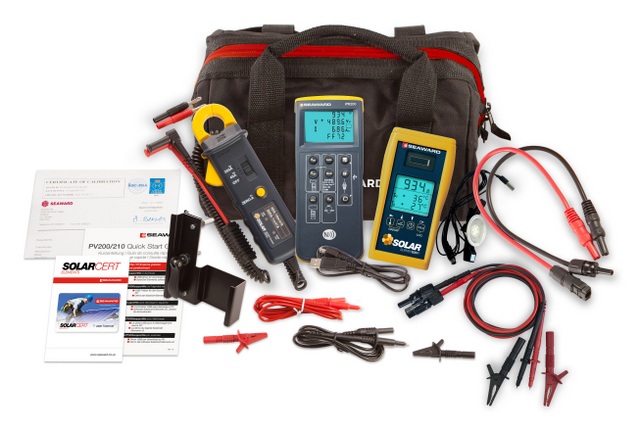 Solar test equipment manufacturer Seaward Group released an updated version of its solar PV test equipment with new features to improve functionality and boost performance and precision.
The biggest updated in the PV200/210 Complete Kit  is a new I-V curve algorithm designed to produce higher resolution results. Users will also find new messages that indicate if there has been a problem with the test – limiting occurrences of invalid tests and saving time on site. Even better, combiner box text leads and a mounting bracket are now included with every kit as standard – previously users had to purchase these separately.
RELATED: How to design a perfect solar system — then sell it — with Aurora Solar COO
"We had a fantastic response to the original PV200 and 210 devices – which provide an intuitive and cost-effective way to measure the I-V curve of PV modules and strings," said Michael Middlemast, category manager at Seaward, said. "We've listened carefully to user feedback to implement these latest updates. The improved level of accuracy makes the devices even more efficient to use, limiting downtime and increasing energy production."
Seaward, which unveiled the latest devices at last month's Intersolar North America, also announced updates to the PV200/210's software, SolarCert Elements V2. The latest version of the software now simply called SolarCert, enhances the I-V curve reporting function, allowing users to quickly and easily generate a report for thousands of strings.
— Solar Builder magazine
[source: https://solarbuildermag.com/products/seaward-updates-pv-testing-products-with-higher-resolution-i-v-curve-more/]