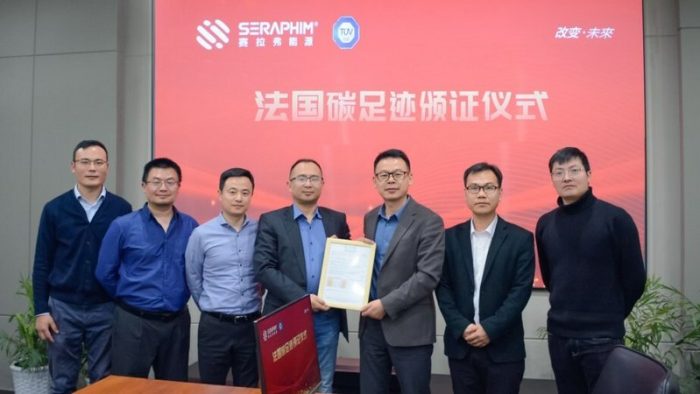 Seraphim Energy Group Co. announced that it has received the "low-carbon" certificate from CERTISOLIS for its S4 series modules, which evaluates carbon emission impact along the manufacturing chain starting from silicon production to module production.
This is an inevitable prerequisite to participate in the French Energy Regulation Council (CRE) auctions, but is also becoming important to more corporate buyers in the United States. Gaining this certificate means that Seraphim S4 series modules are eligible to CRE auctions and proof of green-manufacturing capability.
"The Seraphim S4 series module has a carbon footprint of only 417.11kg eq CO2/kWp, which is about 15% lower than comparable models from the Chinese and European manufacturers available in France," says Hurry Xu, VP, Smart Energy at TÜV SÜD Greater China.
Since its foundation in 2011, Seraphim has earned the Tier 1 distinction from BNEF for 9 consecutive years, and the Top Performer distinction from PVEL 5 times.
By the end of 2022, more than 20 GW of Seraphim modules were installed in over 100 countries. Seraphim has a total capacity of 12 GW in 2023 to serve the global PV market.
— Solar Builder magazine
[source: https://solarbuildermag.com/news/seraphim-s4-series-modules-earn-low-carbon-certificate/]